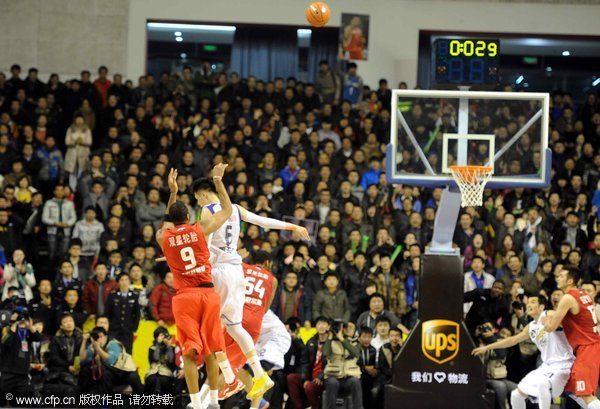 Qingdao Doublestar's Tracy Mcgrady (No. 9) shoots the ball with 1.7 seconds remaining in the fourth quarter of the game against Liaoning Hengye in the Chinese Basketball Association (CBA) League on Wednesday. [Photo/CFP]
BEIJING - Former NBA All-star Tracy Mcgrady made the decisive shot with 1.7 seconds remaining, helping Qingdao Doublestar extend their season-high winning streak to three games with a 99-97 victory over Liaoning Hengye in the Chinese Basketball Association (CBA) League on Wednesday.
Mcgrady registered 31 points, six rebounds and six assists to shrug off his 10-point performance last time against Liaoning due to injury. Another foreign player Chris Daniels added 24 points and 11 rebounds.
It was tied at 49 into halftime, then Liaoning built a six-point lead by Josh, who scored a game-high 38 points. Qingdao replied with a 7-2 run to get back into the game.
Qingdao once led the game by eight points in the final 12 minutes, but Liaoning tied it 97 with 1:02 left. Then it was T-mac's show time, as he found the basket in front of Liaoning player He Tianju's defense.
Shandong Gold also took a sweet revenge by beating defending champions Beijing Ducks 109-92 despite Stephon Marbury's 26 points.
Shandong recorded a seven-game winning streak in 2013. Zaid Abbass and Pooh Jeter scored 19 points apiece for Shandong, as they also contributed 17 rebounds and 11 assists respectively.
Shandong were handed the first loss this season by Beijing in the sixth round, but they went into this game quite early with a 28-17 lead after the first quarter and never fell down in the following three.
"These opponents are the reigning champions. Tonight we have a successful defense on their key player Marbury, which I'm satisfied with," said Gong Xiaobin, Shandong's coach.
On Tuesday, Guangdong Hongyuan maintained their top spot by holding off Dongguan Marco Polo 107-97 thanks to Yi Jianlian's 40 points and 10 rebounds. Dongguan's Marcus Haislip finished with a game-high 43 points.
In other matches, Shanghai Sharks beat Shanxi Zhongyu 113-102, Zhejiang Guangsha crushed Bayi Fubang 113-73, Xinjiang Guanghui held off Jilin Northeast Tigers 102-92, Foshan Long Lions downed Jiangsu Dragons 118-110 and Fujian SBS defeated Zhejiang Chouzhou 130-114.