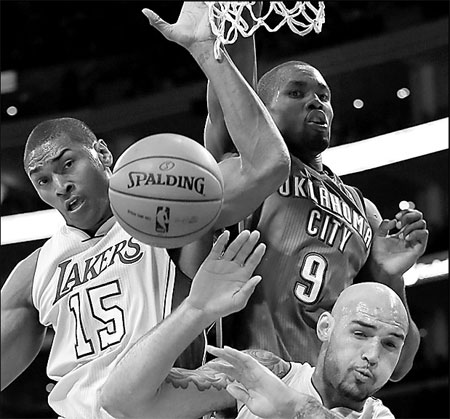 Oklahoma City Thunder's Serge Ibaka (center) fights for a rebound with Los Angeles Lakers Metta World Peace (left) and Robert Sacre during their game in Los Angeles on Friday. Lucy Nicholson / Reuters
Kevin Durant hit a 3-pointer in the final second of the first half and did a full reverse somersault to celebrate a 16-point lead. The Thunder were running the Lakers out of their own building, and not even Kobe Bryant could stop them.
Oklahoma City is again clearly among the best teams in the Western Conference, and the struggling Lakers may not have enough time left in the season to join them.
Durant scored a season-high 42 points, Russell Westbrook had 27 points and 10 assists and Oklahoma City easily sent the short-handed Lakers to their sixth straight loss, 116-101 on Friday night.
Kevin Martin scored 15 points and hit three 3-pointers for the Thunder, who romped to a 27-point lead in the second half. Oklahoma City has won seven of nine, while Los Angeles is on its longest skid since March 2007 while playing without injured stars Dwight Howard and Pau Gasol.
Oklahoma City (28-8) matched the Clippers for the NBA's best record - and the Thunder made it look easy with a virtuoso game from Durant, who had 38 points midway through the third quarter.
"Coming in here, it's tough to win no matter what," Durant insisted after the Thunder coasted down the stretch. "We did a great job of just playing together at both ends of the floor all night and not taking those guys lightly. They've got two of the best players in the world out, so we just wanted to come out and have a good game."
They had a bit more than a good game. Durant hit four 3-pointers and his usual array of athletic shots whenever he wanted, while Westbrook finished three rebounds shy of a triple-double while playing less than 35 minutes.
The Thunder only had three scorers in double figures, but that was more than enough.
Westbrook, a Los Angeles native, has little sympathy for the Lakers.
"They're not done. They have a lot more games left, and I'm pretty sure they're going to find a way to get it together," Westbrook said. "Our job is to worry about our team and our organization. It wasn't easy. I just think we did a good job of playing team basketball defensively, and it showed. Kevin took control most of the game."
The Lakers (15-21) hadn't lost this many consecutive games since the year before they acquired Gasol and embarked on a run to three straight NBA Finals. With Cleveland and Milwaukee visiting over the next four days, the Lakers have a chance to get competitive again - but they're facing an uphill climb just to get into playoff contention.
"I told the team, the biggest thing is our season starts Sunday," coach Mike D'Antoni said. "We've got to make a run. We've got one shot at it, and everybody needs to get ready mentally and physically. From there on, we can't make any more false steps. That's just how it is. We put ourselves in this ditch, and we're the only ones that can get out, and hopefully we can get some guys back and start our season Sunday."
Bryant scored 28 points and Antawn Jamison added 19 against Oklahoma City, but Los Angeles looked lost and overmatched in its third straight game without Howard and Gasol.
NOTES:
The teams meet again at Staples Center on Jan. 27. Oklahoma City also visits to face the Clippers on Jan. 22 ... Charlize Theron, Adam Sandler, Robin Thicke, Floyd Mayweather Jr., Mehmet Oz and Chad Johnson watched the game from courtside.
(China Daily 01/13/2013 page7)