SHENZHEN - Chinese ace Li Na will seek to lift her seventh WTA title Saturday when she meet Czech Klara Zakopalova in the final of the inaugural Shenzhen Longgang Gemdale Open.
Top seed Li reached the final after clinching a 6-4, 6-0 win over fellow Chinese Peng Shuai on Friday when Zakopalova pushed aside Romanian Monica Niculescu 6-1, 6-3.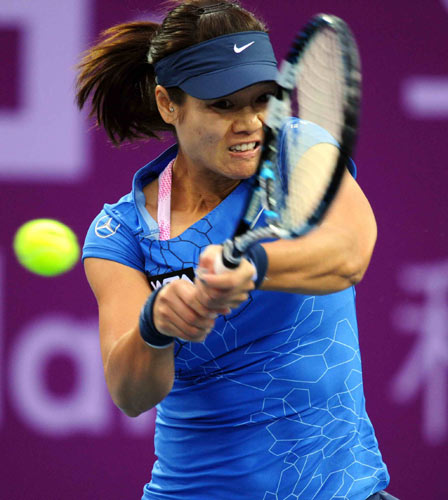 China's Li Na returns while playing against Bojana Jovanonski of Serbia in the Shenzhen Gemdale Open quarterfinals on Thursday in Shenzhen, Guangdong province. Li won 6-3, 6-3 to reach the semis, where she will face compatriot Peng Shuai. [Photo by Wu Jun / For China Daily]
Both winners have been dominant this week, not giving up more than four games in a set - with Zakopalova only surrendering 18 games to Li's 21.
Top-seeded Chan Hao-Ching and Chan Yung-Jan, sisters from Chinese Taipei, will play unseeded Irina Buryachok and Valeria Solovieva in the doubles final on Saturday.
The hardcourt event was newly added to the WTA calendar and will take place in the first week of the year. The International level event offered a total prize of 500,000 US dollars.
Related reading: