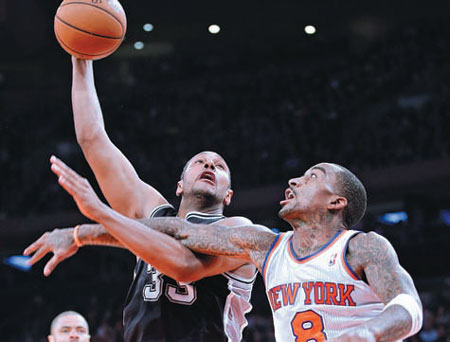 San Antonio Spurs' center Boris Diaw (33) is fouled by New York Knicks' guard J.R. Smith (8) in the fourth quarter of their game at Madison Square Garden in New York on Thursday. Ray Stubblebine / Reuters
Bench player Steve Novak led a sizzling three-point shooting display as the New York Knicks mixed spectacular offense with a much-improved defense to stun the red-hot San Antonio Spurs with a 100-83 win at Madison Square Garden on Thursday.
With Novak making five-of-seven attempts from beyond the arc to total 15 points and Carmelo Anthony adding a game-high 23, the Knicks snapped the Spurs' seven-game winning streak in rampant style.
There were further stellar contributions from the New York bench with J.R. Smith weighing in with 20 points and Amare Stoudemire 10 as the home team outshot San Antonio by 44.4 percent to 26.5 from behind the three-point line.
The Atlantic pacesetting Knicks broke the game wide open in the fourth quarter, starting out with a 15-2 run, to improve their record to 22-10.
"After a great start this season defensively, the last 10 games we went down," Knicks reserve point guard Pablo Prigioni, an NBA rookie at the age of 35, said courtside after finishing with six points and nine assists.
"The coach showed clips to us and showed us how we were playing now and how we played then. Today we came back to that level."
Stifled Spurs offense
All-Stars Tim Duncan and Tony Parker each scored 11 points for the Southwest leading Spurs, who had been averaging 111.7 points per game this season until their offense was stifled by the Knicks on Thursday.
"We played great tonight," Knicks coach Mike Woodson said. "We beat a damn good ball club. It took a total team effort."
New York had conceded more than 100 points a game in each of its past 10 games, but restricted the high-powered Spurs with an intensive defensive effort.
"When you play defense at a high level, like we did tonight, you put yourself in position to win games," Woodson said.
"They are going to have to continue to play that way. The ball moved ... Novak got some great looks, J.R. had great looks ... the ball was moving."
The Knicks ended a closely contested first quarter with a 22-19 lead and they padded that to 37-29 midway through the second quarter when Novak made his second three-pointer.
(China Daily 01/05/2013 page16)