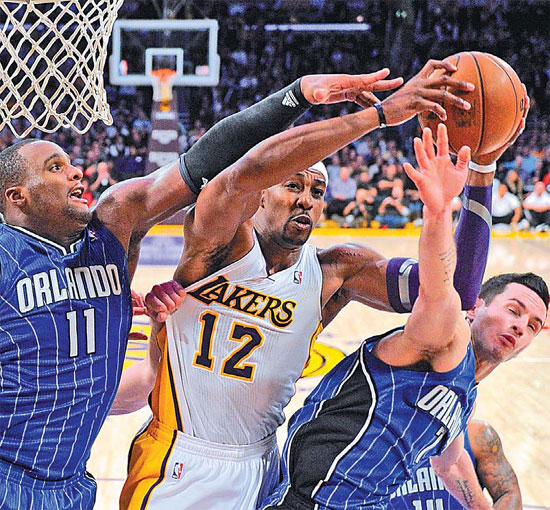 Los Angeles Lakers center Dwight Howard (center) goes up for a shot as Orlando Magic forward Glen Davis (left) and guard J.J. Redick defend during the second half of their NBA game on Sunday in Los Angeles. The Magic won 113-103. Mark J. Terrill / Associated Press
No joy for star center as former team rallies to 113-103 victory
Dwight Howard wasn't his usually playful self in the Los Angeles Lakers' locker room. He refused to answer certain questions and shared few personal thoughts about his ugly reunion with the Orlando Magic.
"It wasn't emotional," Howard said.
Maybe that was part of the problem - and one reason the Magic left the reunion with their biggest win of the season.
Arron Afflalo scored 30 points, Glen Davis added 23 points and 12 rebounds, and the Magic beat Howard's Lakers in their first game against their longtime center, 113-103 on Sunday night.
Howard had 21 points and 15 rebounds, but the rebuilding Magic rallied impressively with a 40-point fourth quarter for just their fourth win in 14 games, snapping a three-game skid. Orlando pulled the upset partly by intentionally fouling Howard, who went 9 for 21 at the line - including 7 for 14 in the fourth quarter.
The Magic made their decisive 12-2 run while Howard wasn't helping the Lakers at the line in the final minutes, with Nelson and Redick hitting 3-pointers along the way.
Howard's first few months with the Lakers haven't gone the way he might have expected after the four-team, 12-player trade in August: a sub-.500 record, a shocking coaching change, an injured point guard and an unsightly amplification of Howard's career-long woes at the free-throw line, where he has dropped to 46.5 percent (87 for 187) for the season.
"As a team, our effort wasn't there," Howard said. "We have to start the game with energy and play the whole game the same way. We didn't do that tonight, and they capitalized on it and they got a win."
Howard left the court after the game without shaking hands with the Magic - not that he has many close friends left in blue pinstripes anyway. Orlando has new coach Jacque Vaughn, a new front-office staff and just five players who played with Howard.
"Let Dwight be Dwight. If he wants to walk off the court, it's cool," said Davis, who overlapped with Howard only last season in Orlando. "No hard feelings. He lost. I'd feel bad, too. I wouldn't want to shake nobody's hand. We weren't even really thinking about him. We just wanted to get this win. I didn't talk to him. I'm here to play basketball. I'm not here to be buddies."
Kobe Bryant scored 34 points for the Lakers, who dropped to 3-4 under new coach Mike D'Antoni with another inconsistent performance featuring deficient defense. Metta World Peace scored 15 points and Pau Gasol added 11 for the Lakers, who went back to poor form just two nights after a 122-point effort in a blowout win over Denver.
"Seems like we can't get out of our own way," D'Antoni said. "I think our problem is just not coming out with the intensity and the purpose that we need to have ... We're slow right now. Just athletically, we're struggling with young teams that run up and down."
Notes:
The Lakers don't visit Orlando until March 12 ... World Peace hit the 1,000th 3-pointer of his career in the third quarter ... Lakers G Steve Nash did shooting and dribbling work on the court before the game. The two-time MVP has missed 15 straight games with a small fracture in his right leg, and the Lakers aren't sure when he'll return.
(China Daily 12/04/2012 page24)