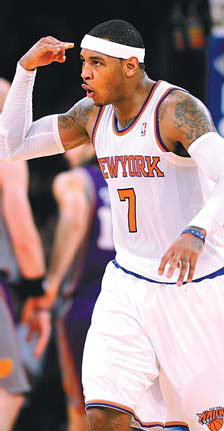 New York Knicks' Carmelo Anthony reacts after hitting a 3-point shot. AP
Rasheed Wallace delivered a hard whack to Luis Scola, then some hard words to the referees.
These New York Knicks won't let anybody have it easy at Madison Square Garden, not even the officials.
Carmelo Anthony scored 34 points and the Knicks ran their best home start in 20 years to 7-0, withstanding Wallace's ejection after a mere 1:25 of playing time to beat the Phoenix Suns 106-99 on Sunday.
Phoenix had won its past two at MSG but the Knicks have finally figured out under coach Mike Woodson that home-court games are not to be wasted. They are 18-1 in the regular season here since he took over last March, jumping on their past few opponents from the start.
"His whole thing when he came in is we're going to protect our home floor. We're going to win every game at home, or we're going to try to win every game at home, and we're going to go out on the road and compete," center Tyson Chandler said. "So his whole thing is we've got to protect our house. Teams coming in got to feel like they've got to go somewhere else to get a win."
Raymond Felton had 23 points, seven assists and no turnovers for the Knicks, who last won seven straight at Madison Square Garden to open a season when they started 9-0 in 1992-93. The point guard was hurting after the game. He went for an MRI exam that revealed a bone bruise in his swollen left hand.
"I got jammed in between another player," he said. "Just a lot of pain in my thumb."
Chandler finished with 15 points and 13 rebounds as the Knicks improved to 12-4 overall, a half-game behind Miami for the best record in the Eastern Conference. They got off to a good start in December after winning 11 in November for the first time since a 12-victory November in 1972 on the way to their last NBA championship.
"I think they're a hell of basketball team. I really do," Phoenix coach Alvin Gentry said. "When you add Iman Shumpert and Amar'e Stoudemire back to the mix, shoot, they're as good as anybody."
(China Daily 12/04/2012 page24)