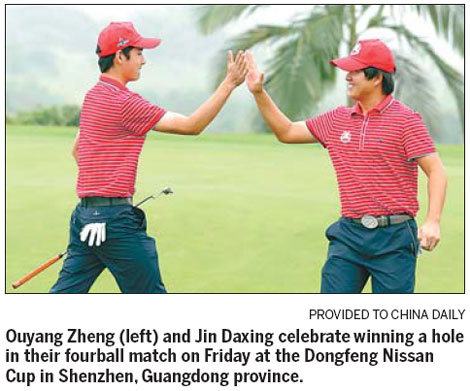 Team China raced to a 4-2 lead at the Ryder Cup-style Dongfeng Nissan Cup on Friday, dominating an Asia-Pacific team that struggled in the rain at the CTS Tycoon Club.
The winner of the OneAsia team tournament by one point last year, Asia-Pacific was behind in every match at one stage on Friday before clawing its way back into the contest during a topsy-turvy afternoon of fourball.
With about half an hour of play left, it looked as if honors would be even, but Zhang Lianwei drained a 16-foot birdie putt on the 17th to claim a 2 and 1 win with Yuan Hao over Wisut Artjanawat and Nicholas Fung.
Singaporean Choo Tze Huang then misread a birdie putt on the 18th, handing Ouyang Zheng and Jin Daxing a one-up victory.
"There isn't much to separate us again," said second-time captain Peter Thomson.
"There are still lots of points up for grabs, but we have our work cut out and we will have to improve in the foursomes matches."
China vice-captain Cheng Jun was pleased.
"The younger players played very well - they cooperated and we need that in matchplay pairs," he said.
"Today's result is better than the same stage last year."
Asia-Pacific won 12 1/2 to 11 1/2 on the final day last year.
Australians Andre Stolz and Scott Laycock took on Chinese No 1 Liang Wenchong and 14-year-old amateur Guan Tianlang early in the day.
Although handicapped by his distance off the tee, Guan peppered the flags with his irons and birdied the par-3 fifth to put China in front until the 13th, when the Asia-Pacific pair grabbed three of the next four holes to win 2 & 1.
tangzhe@chinadaily.com.cn
(China Daily 12/01/2012 page16)