Swimming legend Ian Thorpe admits he is a nerdy bookworm who hardly fits the stereotype of an Australian sportsman, but says rumors he is gay are not true.
Launching his autobiography This is Me on Wednesday, the five-time Olympic gold medalist opened up about his battle with depression and his failure to qualify for the London Games in his much-anticipated comeback.
"This is a very different book than I intended," said Thorpe, now 30, adding it was supposed to be the story of someone who got back in the pool and achieved "the success he had in the past".
"Unfortunately ... it didn't turn out that way. I didn't qualify for the Olympics and I didn't have the ending that I anticipated and also hoped for."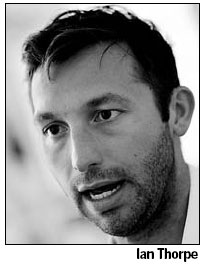 Thorpe, who won his first world title at the age of 15 and was just 17 when he first won Olympic gold, grew up in the media spotlight, and said from the age of 20 he sometimes felt like leaving the sport.
He held on to sensationally quit swimming at the age of 24, and writes in the book that he knew he was retiring prematurely and could have achieved more but was "bitter with the constant pursuit, accusations and innuendo".
On his sexuality, he writes: "I accept there's nothing else I can say or do.
"There'll always be people who are sceptical; people who want me to be gay, and others who'll try and use it against me.
"It should have been over and done with a long time ago but people have remained obsessed with it and need to find an explanation which suits their perspective."
He said the fact that people question what he is hurts.
"I think it's because I don't fit into the typical stereotype of ... what Australian athletes have been in the past," he told ABC television.
"I guess I behave differently. I'm a nerd; I'm just someone that happened to be good at sport as well."
Thorpe said he realized "something wasn't quite right" when he was in his mid-teens, but at the time did not know it was depression.
He sought help, but admits in the book he occasionally turned to alcohol.
Thorpe says he is happy and healthy now, but is intrigued by the possibility of a link between depression and elite sport.
"I think there may be some reason that athletes actually turn to sport because I think the benefits of exercise in relation to managing depression is a really positive thing," he said.
"Then you can look at the environmental factors that could contribute to it being worse, which is that high-pressure elite side of sport.
"But when I talk about depression or anxiety, I'm actually at my best when I compete."
Thorpe has not yet achieved his hoped-for success in his comeback, made after four years out of the sport, but is still swimming and hopes to qualify for the 2013 World Championships in Barcelona.
(China Daily 11/01/2012 page23)