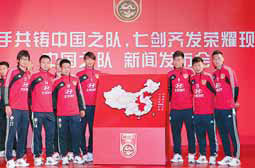 China national team players pose with a map which marks the seven home stadiums in red for its international matches in the coming four years during a signing ceremony with its new sponsor, Hyundai, in Beijing on Tuesday. Provided to China Daily
China's soccer is still struggling to catch up to the world's elite, but its huge market and potential keep attracting sponsors from around the world.
South Korean car-maker Hyundai on Tuesday became the latest corporation to team with Chinese Football Association (CFA).
It signed a four-year contract with Chinese national team, providing at least 200 million yuan ($31.5 million) in sponsorship if China is able to advance to the final round of 2018 World Cup qualifying.
The national team has three other strategic partners, including leading sportswear company adidas.
But this contract surpasses the previous ones and makes Hyundai the biggest benefactor of Chinese soccer.
"We will begin a new era with such a big sponsorship. We will work together to improve the game and our national team's performances," said CFA chief Wei Di during the ceremony in Beijing.
According to the contract, the sides will co-operate for at least four years before deciding whether to extend the partnership.
Hyundai will invest at least 40 million yuan every year and will provide an extra 40 million yuan if China makes it to the last round of 2018 World Cup qualifying.
China's only World Cup appearance was at the 2002 event hosted by South Korea and Japan.
It was eliminated at the group stage of 2014 World Cup qualifying.
More good news for the national team came with the announcement of seven home stadiums for its games over the next four years.
The venues are Beijing Workers' Stadium, Shanghai Hongkou Stadium, Tianjin Olympic Sports Center, Wuhan Sports Center, Qinhuangdao Olympic Sports Center, Changsha Helong Stadium and Shaanxi Sports Center.
National team members, who have assembled for training under Spanish coach Jose Antonio Camacho during the Chinese Super League break, and the coaching staff were at Tuesday's ceremony.
China will play friendly games again Spain and Vietnam in June.
chenxiangfeng@chinadaily.com.cn
(China Daily 05/31/2012 page24)