China's snooker ace Ding Junhui will be looking to continue his sizzling play on the Main Tour at the China Open in March, but a number of foes will stand in his way in Beijing.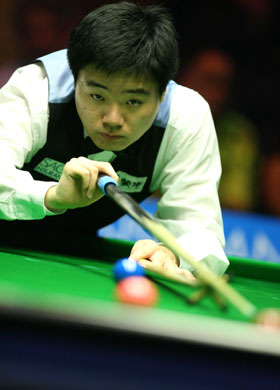 Ding Junhui 
World top-16 players, including world No 1 Ronnie O'Sullivan, Stephen Hendry, Ken Doherty, and defending champion Graeme Dott, are set to join the annual tournament, held from March 24 to 30, tournament organizer Intersports said yesterday.
"I am here to guarantee Chinese fans that the best 16 will be competing at the China Open this year," the tournament's spokeswoman Zhang Yuan told China Daily.
Ding's success over the past two years brings the sport's popularity here to new heights. His cool, attacking play has captured the imaginations of a sports-crazed nation.
Live coverage of Ding's home matches topped the 2007 sports viewing standings of China Central Television (CCTV).
In the 2007-08 season, Ding again grabbed the country's attention when he beat three former top-ranked players - O'Sullivan, Hendry and Steve Davis - at the Snooker Premier League in England in December.
The 20-year-old wunderkind also had the pleasure of winning three ranking titles - the China Open and the UK Championships in 2005 and the Northern Ireland Trophy in 2006 - and is the only player other than John Higgins to do so before his 20th birthday.
With the $104,050 prize money won at the Premier League, Ding became the fifth-ranked athlete on the Forbes 2007 Chinese Celebrity Rich List after Yao Ming, Liu Xiang, Yan Zi and Zheng Jie.
"I want to play my best snooker at the China Open," he told Beijing Television. "The tournament is always special for me, because I won my first Main Tour trophy here and it is always a lot of fun to play in front of my family and Chinese fans."
In the inaugural China Open in 2005, Ding landed a historic win at the 2005 China Open by trumping Hendry 9-5 in the final. The victory made Ding the first-ever Chinese player to win a Main Tour title and the second youngest title holder in snooker history, just nine days older than Ronnie O'Sullivan when he won the 1993 UK Championship.
According to Zhang, Ding will be joined by eight Chinese wild cards in the tournament at the Beijing University Students Stadium.
After cooperating for three years, China's Multiple Ball Games Administrative Center of the State General Sports Administration signed an eight-year contract with Worldsnooker, the world governing body of the sport.
"We want to build the China Open as the most successful tournament in Beijing," Intersports boss Kang Wei said. "With Ding's wonderful show, our target is already