CLEVELAND - As hundreds of thousands of American home owners fall behind on their mortgage payments, more people are turning to short-term loans with sky-high interest rates just to get by.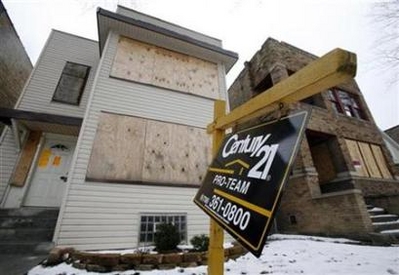 A foreclosed home in Chicago is seen in this January 28, 2008 file photo. [Agencies] 
While hard figures are hard to come by, evidence from nonprofit credit and mortgage counselors suggests that the number of people using these so-called "pay day loans" is growing as the US housing crisis deepens, a negative sign for economic recovery.
"We're hearing from around the country that many folks are buried deep in pay day loan debts as well as struggling with their mortgage payments," said Uriah King, a policy associate at the Center for Responsible Lending (CRL).
A pay day loan is typically for a few hundred dollars, with a term of two weeks, and an interest rate as high as 800 percent. The average borrower ends up paying back $793 for a $325 loan, according to the Center.
The Center also estimates pay day lenders issued more than $28 billion in loans in 2005, the latest available figures.
In the Union Miles district of Cleveland, which has been hit hard by the housing crisis, all the conventional banks have been replaced by pay day lenders with brightly painted signs offering instant cash for a week or two to poor families.
"When distressed home owners come to us it usually takes a while before we find out if they have pay day loans because they don't mention it at first," said Lindsey Sacher, community relations coordinator at nonprofit East Side Organizing Project on a recent tour of the district. "But by the time they come to us for help, they have nothing left."
The loans on offer have an Annual Percentage Rate (APR) of up to 391 percent -- excluding fees and penalties. All you need for a loan like this is proof of regular income, even government benefits will do.
On top of the exorbitant cost, pay day loans have an even darker side, Sacher notes. "We also have to contend with the fact that pay day lenders are very aggressive when it comes to getting paid."
Ohio is on the front line of the US housing crisis. According to the Mortgage Bankers Association, at the end of the fourth quarter Ohio had 3.88 percent of home loans in the process of foreclosure, the highest of all the 50 US states. The "Rust Belt" state's woes have been further compounded by the loss of 235,900 manufacturing jobs between 2000 and 2007.
But while the state as a whole has not done well in recent years, pay day lenders have proliferated.