BAGHDAD - Rockets and mortars pounded Baghdad's US-protected Green Zone Sunday and a suicide car bomber struck an Iraqi army post in the northern city of Mosul in a surge of attacks that killed at least 57 people nationwide.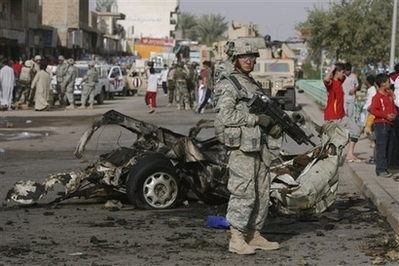 A US soldier stands guard in the area where a suicide car bomber detonated his load in Shula, Baghdad, Iraq, Sunday, March 23, 2008. [Agencies] 
The latest violence underscored the fragile security situation and the resilience of both Sunni and Shiite extremist groups as the war enters its sixth year and the US death toll in the conflict approaches 4,000.
Attacks in Baghdad probably stemmed from rising tensions between rival Shiite groups -- some of whom may have been behind the Green Zone blasts. It was the most sustained assault in months against the nerve center of the US mission.
Related readings:


 Baghdad's Green Zone hit by missile barrage


 At least 3 killed in Green Zone barrage


 US protesters mark Iraq war anniversary


 Studies: Iraq costs US $12b per month
The deadliest attack of the day was in Mosul when a suicide driver slammed his vehicle through a security checkpoint in a hail of gunfire and detonated his explosives in front of an Iraqi headquarters building, killing 13 Iraqi soldiers and injuring 42 other people, police said.
Iraqi guards opened fire on the vehicle but couldn't stop it because the windshield had been bulletproofed, said an Iraqi army officer. He spoke on condition of anonymity because he was not supposed to release the information.
Mosul, Iraq's third largest city about 225 miles northwest of Baghdad, has been described as the last major urban area where the Sunni extremist al-Qaida group maintains a significant presence.
In Baghdad, rockets and mortars began slamming into the Green Zone about sunrise, and scattered attacks persisted throughout the day, sending plumes of smoke rising over the heavily guarded district in the heart of the capital.
A US public address system in the Green Zone warned people to "duck and cover" and to stay away from windows.
At least five people were injured in the Green Zone, a US Embassy statement said without specifying nationalities. The zone includes the US and British embassies as well as major Iraqi government offices.
A US official, speaking on condition of anonymity because the official was not authorized to release the information, said those injured included an American and four third-country nationals, meaning they were not American, British or Iraqi.
Iraqi police said 10 civilians were killed and more than 20 were injured in rocket or mortar blasts in scattered areas of eastern Baghdad -- some of them probably due to misfired rounds.
Also in the capital, seven people were killed and 14 wounded in a suicide car bombing Sunday in the Shiite area of Shula in the capital, police reported. Such attacks are the hallmark of Sunni religious extremists.
Gunmen opened fire on passengers waiting for buses in a predominantly Shiite area in southeastern Baghdad, killing at least seven men and wounding 16 people, including women and children, according to police.