BAGHDAD - Three U.S. soldiers were killed by a roadside bomb in Iraq on Saturday, pushing the U.S. death toll closer to the 4,000 mark at start of the sixth year of the war for U.S. troops.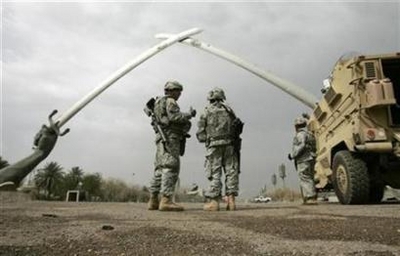 U.S. soldiers stand near the Swords of Qadisiyah monument in Baghdad March 13, 2008. [Agencies
The deaths, which brought the number of U.S. soldiers killed since the U.S.-led invasion in 2003 to 3,996, came three days after President George W. Bush said the United States was on track to victory in Iraq.
In an upbeat speech marking the fifth anniversary of the war, Bush acknowledged the "high cost in lives and treasure" but said a U.S. troop build-up in Iraq had reduced violence there and opened the door to a strategic victory in the war on terror.
The war is a major issue in the presidential campaign, with Democratic presidential candidates Barack Obama and Hillary Clinton calling for an early troop withdrawal timetable.
Presumptive Republican candidate John McCain wants to keep troops in Iraq until it is more stable.
The U.S. military said the three soldiers were killed when a roadside bomb blew up near their vehicle northwest of Baghdad. Two Iraqi civilians also died in the attack. It gave no further details about where the incident occurred.
Roadside bombs are the biggest killers of U.S. soldiers in Iraq.
On Friday, a U.S. soldier died from wounds sustained from "indirect fire," a term commonly used by the military to refer to a mortar or rocket attack, south of Baghdad.
Six members of a U.S.-backed neighborhood patrol group were killed early on Saturday in a U.S. helicopter strike on their checkpoint in Salahuddin province, police and a local tribal leader said.
The U.S. military said it was checking the report.
SUNNI PATROL TENSIONS
The U.S. military has credited the formation of what it calls Concerned Local Citizen groups (CLCs), also known as Awakening Councils, for playing a crucial role in a 60 percent drop in violence across Iraq since last June.
The mostly Sunni Arab neighborhood patrols have some 90,000 men in western Anbar and provinces north and south of Baghdad. The U.S. military pays them $300 a month to patrol their neighborhoods and man checkpoints.
The U.S. air strike took place on a CLC checkpoint near the town of Ishaqi, 100 km (60 miles) north of Baghdad, tribal leader Abu Faruq told Reuters.
"They knew all this area under is my control, and all the men were in uniform and were not firing their weapons, so why did this happen? If Awakening checkpoints are hit this way, it is a disaster," he said.
The incident is the latest in a string of disputes between the CLCs and the U.S. military. In November, U.S. warplanes attacked a CLC checkpoint north of Baghdad, killing 25 men.