The public debut of China's newly appointed Vice-Premier Li Keqiang impressed his audience Sunday as he set out his policy visions for the first time.
The top leader demonstrated his keen awareness of the challenges ahead for the country, devoting nearly half of his first public speech in the post to analyzing major economic and social issues.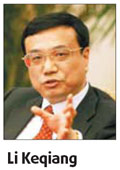 Addressing the 2008 China Development Forum, Li said that, despite the challenges facing both the global and Chinese economies, the nation's rapid urbanization and industrialization and its huge domestic market can combine to ensure the country maintains fast and sustainable economic growth.
It was his first public appearance since his appointment as one of the country's four vice-premiers, which was endorsed last Monday by the National People's Congress.
"We will still firmly adhere to the central task of economic development as China remains in the early stage of its development with a huge population to feed.
Yet, the vice-premier vowed that more efforts would be devoted to improving sectors attracting the most public concern, including healthcare, housing, employment and social security.
At 53, Li is the youngest member of the Standing Committee of the Political Bureau of the Communist Party of China Central Committee.
After 30 years of reform and opening, Li said, China has come to the point of tackling the most important issues, with breakthroughs to be made in key sectors.
In his 16-minute speech, Li addressed the audience with frequent eye contact and made a swift transition between topics.
Li cut his teeth as a village Party chief in his native Anhui province, and later served as an official in the Communist Youth League of China from 1983 to 1998.
He spent six-and-a-half years as governor of the country's most populous and agricultural province of Henan in central China, ensuring the first double-digit growth in GDP and in the per capita net income of farmers in this inland province in 2004.
He also became the youngest provincial Party chief when he moved on to the old northeastern industrial hub of Liaoning in 2004. He helped to revive this rust-belt province with efforts to push forward the opening of its coastal cities, create jobs and provide better housing.
Haruhiko Kuroda, president of Asian Development Bank, said: "I was impressed by his frankness, and his faithful and spontaneous statements made at the forum."
"He will play a very important role as a vice-premier in charge of so many important issues," Kuroda said.
(China Daily 03/24/2008 page1)