A growing number of people are choosing to keep their money in the bank rather than invest it in stocks or property, a central bank survey released yesterday said.
More than 51 percent of the 20,000 households polled said the current level of interest rates was "appropriate", the quarterly survey by the People's Bank of China said. The figure was up from 46 percent in the previous poll held in the fourth quarter of last year, and was the fourth consecutive quarterly increase.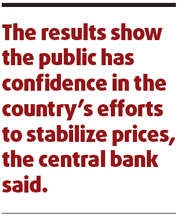 The central bank raised interest rates six times last year in a bid to curb inflation. The rate for a standard one-year savings account is now 4.14 percent, up from 2.52 percent at the start of last year.
While investing on the stock market was a popular option in the earlier part of last year, recent corrections have dampened enthusiasm. The benchmark Shanghai Composite Index has fallen about 40 percent since October, and in recent months, bank deposits have grown significantly.
The survey was carried out last month and involved families in 50 cities. Of those polled, 35 percent said they thought it necessary to save more, up from 30 percent in the previous poll, while almost 28 percent said they planned to invest more in stocks and mutual funds, down from about 36 percent.
There has also been growing uncertainty in the real estate market, the survey said.
A record low of just 14.6 percent of respondents said they would purchase a property within the coming three months, down 1.3 percentage points on the previous poll.
Meanwhile, a growing number of people said rising consumer prices were unacceptable. More than 49 percent said prices are too high, up from less than 48 percent in the previous poll.
The consumer price index, a key gauge of inflation, rose to 8.7 percent last month, a 12-year high.
There is some positive news on inflation, however. The survey found that just 49 percent of people expect inflation to rise in the second quarter of the year, down from 65 percent who thought so in the previous survey.
The results show the public has confidence in the country's efforts to stabilize prices, the central bank said.
In a separate survey, most bankers agreed there was only a slim possibility of China's economy evolving from "growing relatively fast" into overheating, the bank said.
Just over 62 percent of those surveyed said the country's monetary policy is "relatively tight", while more than 50 percent said they thought the central bank will not raise interest rates in the second quarter of the year.