Taiwan's leader-in-waiting, Ma Ying-jeou of the Kuomintang Party, outlined ambitious plans to recast economic and security ties with the mainland, aiming for a peace accord ending 59 years of hostility across the Taiwan Strait.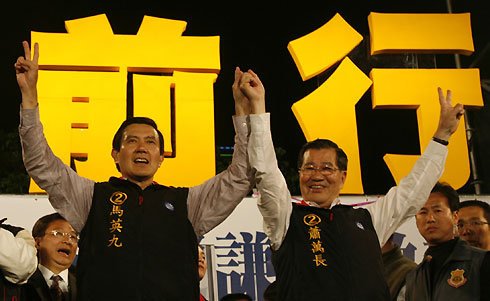 Taiwan's Kuomintang (KMT) candidate Ma Ying-jeou(L) and running mate Vincent Siew celebrate victory in the island's leadership election in Taibei March 22, 2008. Ma outlined ambitious plans to recast economic and security ties with the mainland. [Agencies]
Ebullient after a decisive victory in Saturday's election, Ma said Sunday in Taibei that he would try to reach agreement with the mainland on a wide range of delicate issues because, unlike the independence-minded Chen Shuibian of the DPP, he is willing to do the practical things to improve ties on all fronts.
During an interview with the Washington Post, Ma seemed confident of his ability to move forward with Beijing on agreements covering direct airline flights, increased tourism from the better-off mainlanders, closer business ties, confidence-building military arrangements and even a formal end to the state of hostility in effect since Chiang Kai-shek fled to Taiwan in 1949 with his Kuomintang or Nationalist followers, the Post reported.
Related readings:


 Kuomintang's Ma wins Taiwan election


 More countries oppose Taiwan referendum on UN membership


 Taiwan residents veto "UN membership referendum"


 China calls on US, Japan to keep their word on Taiwan issue
Speaking at a packed news conference, Ma agreed he was setting out on a course that would be impossible to navigate without equal determination from the mainland. "These are very ambitious plans," he said. "They require the other side's goodwill."
A spokesman for the Taiwan Affairs Office in Beijing, addressing a Taiwanese television crew in Beijing, expressed satisfaction that Taiwan voters rejected a pro-independence referendum at the same time as the vote on Saturday.
"It is the hope of the people on both sides of the strait to develop peaceful cross-strait relations," said the spokesman, Li Weiyi. "Therefore, all of us should work hard on it."
According to the Washington Post, Ma said that he based his confidence on three years of contacts between his Nationalist Party and the Communist Party of China (CPC) discussions that bypassed Chen Shuibian' administration and Chen's relentless emphasis on Taiwanese independence. Those talks have led him to believe that President Hu Jintao and Beijing are ready for dramatic changes now that Chen will no longer be Taiwan's leader, Ma said. In particular, he cited a statement by President Hu in November in which he expressed readiness to seek a peace accord with Taiwan under certain conditions.
They could begin talks, Ma said, by returning to an understanding reached in 1992 that was repudiated by the Chen Shui-bian government.
Beijing said that the "one-China principle" -- there is only one China in the world -- as a prerequisite for any talks. Taiwan endorsed the principle in 1992, when Kuomintang Party was in power, and said that both sides interpret the principle differently.
Ma said the first subject of discussion should be direct charter flights to and from mainland cities, which he predicted could be in operation every weekend by July. From there, he said, negotiations could begin about regular flights and increasing the number of mainland tourists allowed to visit Taiwan.
Within a short time, he predicted, Taiwan could draw as many as 3,000 mainland visitors a day, providing a boost to the island's economy and eroding the enmity built up over the last half-century of hostility. Under Taiwan's present restrictions, only 230,000 mainlanders visited the island in 2007.
"If everything goes right," he said, "I think that will significantly change the Taiwanese attitude toward the mainland."
At the same time, Ma said he wanted to open negotiations on a comprehensive agreement regulating economic ties between the two sides, particularly the nearly $125 billion a year in trade and the growing level of investment by Taiwanese businesses in the mainland. "The rules of the game, of the economic game, mean that the two sides have to get together," Ma said.
Negotiations should also be held on confidence-building measures between the two militaries, he said. Specifically, he suggested that military officers could meet to exchange advance information on deployments and troop movements to avoid misinterpretations and accidental alarms.
More broadly, he said, talks could get underway for the accord suggested by President Hu Jintao to set aside the hostility that has made the strait one of the world's most volatile flash points.