LONDON  - John Terry believes David Beckham should be captain if he earns his 100th international appearance for England in a friendly at France on Wednesday.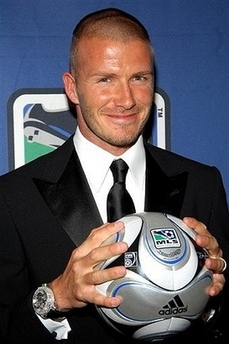 David Beckham, seen here on March 19, 2008, emained in with a chance of winning his 100th England cap in next week's friendly against France in Paris after keeping his place in a reduced 23-man squad announced by Fabio Capello after Saturday's Premier League matches. [Agencies]
Terry was appointed England captain when Beckham stepped down from the position after the 2006 World Cup. New England coach Fabio Capello has not publicly decided if Terry will continue in the role.
Terry missed Capello's first game in charge, a 2-1 friendly win over Switzerland on February 6, with injury, while Beckham wasn't selected because of fitness reasons.
Now fit and expected to start against France at Saint-Denis, Terry said Beckham deserves to be captain if he plays.
"David is a credit to himself and what he has done is exceptional," Terry told BBC Radio on Sunday. "If he is going to start or come on, he fully deserves to wear that England armband.
"I am very nervous about joining up with the squad and certainly don't expect to be captain. I wish to continue as England captain and fingers crossed I can do that, but if not I will respect Mr. Capello's decision."
Terry said he hoped that the LA Galaxy midfielder would reach his century of international games.
"He's proved his fitness and he was really disappointed not be involved in the last game," Terry said. "The whole country is hoping he gets his 100th cap, because if anyone deserves it, David Beckham does."