Fans of basketball superstar Yao Ming worldwide heaved a sign of relief when the March 4 surgery on his left foot in Houston, Texas, was declared a success.
Applause followed, over the news that the Houston Rockets center is expected to fully recover from the stress fracture in four months, just in time for the Beijing Olympics.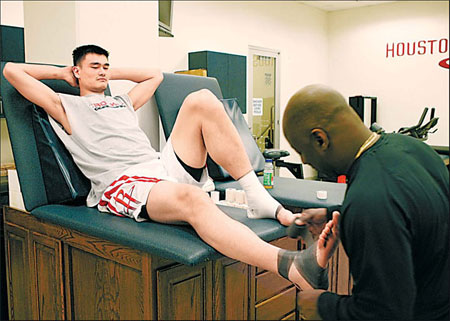 Basketball celebrity Yao Ming of the Houston Rockets has his ankles taped, in preparation for a game against the Cleveland Cavaliers on Feb 7 at the Toyota Center in Houston, Texas. [Getty Images] 
However, media reports of traditional Chinese medicine (TCM) being used to speed up Yao's recovery sparked an outcry from his American fans.
An online debate between Chinese and Americans on the move is still ongoing.
An American fan wrote saying that no clinical experiments have so far provided a scientific basis for TCM, and that it would be more appropriately described as "witchery".
TCM doctors in Beijing, however, argue that their field offers effective methods of treating bone fractures that can help Yao recover faster.
"The orthopedic department of traditional Chinese medicine happens to be the area most related to Western medicine, among all branches of TCM," Liu Jie, TCM doctor with the rehabilitation center of Gulou TCM Hospital in Beijing, said.
"That is because the TCM doctors have to understand the anatomy and structure of the human body to learn about the process of recovery. Contemporary TCM is not detached from modern scientific systems," Liu said.
Current regulations require all TCM doctors in China to undergo five years of medical college and internships in hospitals, similar to what Western medical doctors go through, before being qualified to practice independently.
At the same time, much research has been devoted to verify the efficacy of TCM, after New China was established in 1949, Liu said.
Yi Ping, from the orthopedics department of the China-Japan Friendship Hospital, ran a search on the Internet in the Tsinghua Tongfang medical periodical database using the key words "traditional Chinese medicine" and "bone fracture". Yi found more than 8,000 theses - all published in professional Chinese medical periodicals since 1994 - turning up in the search, with most being about the efficacy of TCM treatment methods or herbal remedies.
Yi holds a bachelor's in TCM and a master's in TCM orthopedics. He said the studies were mostly conducted in ways familiar to Western medicine and modern medical science, such as blood circulation and cytology.
A number of the studies on herbal medicines involved placebo studies conducted on laboratory animals, Yi said.
Both Western medicine and traditional Chinese medicine methods are used at Yi's department, on a case-by-case basis.
"Western medical doctors also use TCM methods here," Yi said.
"It is the same in many other major hospitals in Beijing, such as The Third Hospital affiliated to Peking University, Jishuitan Orthopedics Hospital, Dongzhimen TCM Hospital and Beijing TCM Hospital," Yi said.
"In many respects, TCM treatment of bone fractures, especially wrist fractures and related problems involving soft tissue, has achieved results Western medicine has been unable to accomplish," Yi said.
"At the same time, once the surgery is done, there are not as many ways offered by Western medicine as TCM, to speed the recovery process," Yi said.
Major TCM methods commonly used in such instances include herbal medicines, herbal plasters, acupuncture and massage.
"Studies have shown that TCM treatment methods promote blood circulation and speed up the healing process of bones," Yi said.
"The methods speed up production of bone cells increase the amount of BMP (bone morphogenetic protein), and boost the formation of crucial microelements such as calcium, phosphorous, cuprum and zinc," Yi said.
"Oral herbal medicines like Sanchi and Yunnan Baiyao have been proven to improve blood circulation at body parts affected by bone injuries," Liu said.
"Meanwhile, such volatilizing herbs as Bingpian (borneol) and Shexiang (musk) help a great deal in reducing extravasated blood."
Zhang Shiming, a TCM expert who took part in a top-level medical consultation on Feb 29 in Beijing on Yao's case, told Chinese media that his stress fracture was on the navicular of his left foot.
"If it is indeed the navicular that is involved in the injury, then people have reason to worry," Yi said.
"The navicular is the part of foot that connects the shankbone with the calcaneus. It has bone joints on three parts and is only nourished by blood from two sides. It is one of four bones in the body that are considered most difficult to heal from a fracture. Besides, using a bone screw usually further undermines proper blood supply to the bone."
For bone fractures that do not involve any bone shifting, like in Yao's case, Yi said that his department, as well as many other hospitals here, would usually not use surgery. Instead, plasterboards and plaster casts would be used to immobilize the foot from the outside, and the above-mentioned herbal medicines and methods would be applied. Recovery with those treatment methods usually takes three months to half a year.
Some Chinese sports doctors, however, believe Western medicine is a better choice in Yao's case.
"We tend to use Western medicine when athletes break their bones," Yan Hui, a doctor with the national speed skating team, said.
"TCM is a very good method for rehabilitation, but Western medicine is more efficient in surgeries for athletes."
Shuang Yin, team doctor of the Beijing Guo'an soccer club, echoed Yan's view.
"I think it is the right decision for Yao to undergo surgery in Houston," Shuang told Beijing Television.
"Everybody knows Houston is a perfect place for athletes' rehabilitation, given its well-known background in Western medicine.
"It is also a good choice for him to try some TCM in his three-month rehab, but the surgery in Houston must form the basis of the treatment, for sure."