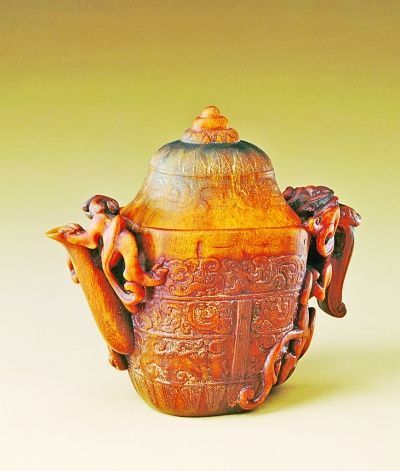 A 13-centimeter-tall ewer carved from rhinoceros horn by Suzhou native Bao Tiancheng, which is currently on display in Suzhou Museum, Jiangsu province. [Photo/ sn.people.com.cn]
Suzhou Museum has welcomed home a collection of rare imperial treasures from the Ming and Qing Dynasties. The artworks are on loan from the Palace Museum in Beijing, and will be on display until Nov 13.
Most of the pieces in the collection were originally created by master craftsmen from Suzhou, but until now had only been visible in the old imperial palace in China's capital. However, Suzhou Museum has teamed up with the Palace Museum to bring 101 of these unique cultural relics 'home' to Suzhou, if only temporarily.
This is the first time Suzhou has hosted such a large collection from the Palace Museum, and the exhibition has already attracted more than 30,000 visitors in its first week.
Many of the visitors are Suzhou natives keen to catch a glimpse of works by some of the city's most celebrated artists, such as the legendary Ming Dynasty jade carver Lu Zigong, bamboo carver Zhu Sangong, Qing Dynasty inkstone carver Gu Erniang and Bao Tiancheng, who specialized in rhinoceros horn carving.
Suzhou has long been famous throughout China for its rich cultural heritage, and in 2014 the city gained global recognition when UNESCO welcomed it into its Creative Cities Network as a City of Crafts and Folk Art. Three crafts native to Suzhou – Xiangshanbang traditional architectural craftsmanship, Songjin brocade weaving and Suzhou Kesi silk weaving – have also been included in UNESCO's Representative List of the Intangible Cultural Heritage of Humanity, while 18 Suzhou handicrafts are recognized in China's list of national intangible cultural heritage.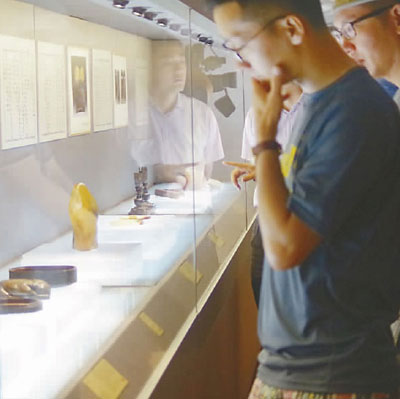 Visitors admire the collection of rare imperial treasures currently on display in Suzhou Museum, Jiangsu province, which opened on Aug 13. [Photo by Yi Yu/ sn.people.com.cn]