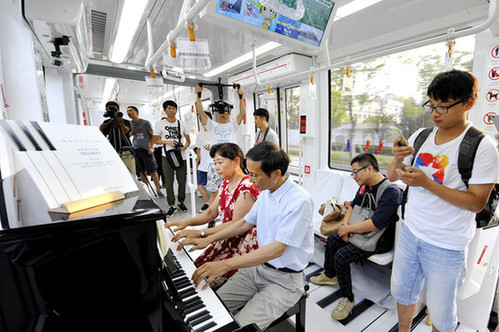 The second piano show by piano teachers from Suzhou Senior Citizen College in Jiangsu province gets underway on Suzhou line 1 tram, August 16. [Photo by Qiang Xiaodong/ snd.gov.cn] 
A tram in Suzhou painted in black and white piano key motif garnered much attention at Suzhou Amusement Park Station on August 16.
It is a warm up show for the finals of the 2nd China International Piano Festival--Boya Award, which will be held in Suzhou High-tech Zone on August 20 and 21.
According to organizers, there will be five piano shows performed by different pianists from 8:00 am to 10:00 am and 4:30 pm to 6:30 pm until 12:00 pm of August 18.
Colorful stickers printed with seven musical notes are available for passengers to stick on wherever they like in the tram. After the event, musicians will compose a tune based on the random order of these stickers.
Gu Zhihao, a 17-year-old blind pianist from Suzhou's Changshu county, was the first pianist to perform on the tram. He played an original composition, very mellow and melodious. Gu said he has had a gift for piano since he was a child and he can feel the changes of the world through a keyboard.