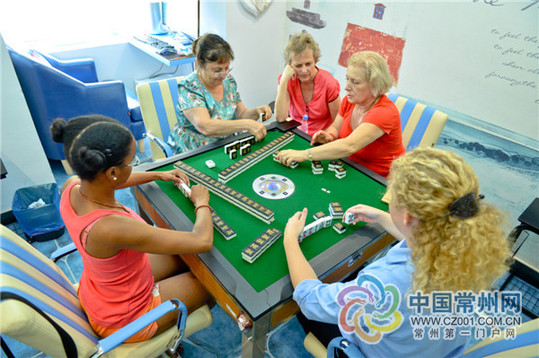 Foreigners play Sichuan-style mahjong at a cultural exchange center on Longjin Road in Changzhou, Jiangsu province, Aug 11. [Photo/ cz001.com.cn]
A friendly mahjong match got underway on Aug 11 at a cultural exchange center on Longjin Road in Changzhou, Jiangsu province, attracting a dozen foreigners from different countries.
The match adopted the playing rules from Sichuan province with advice from foreign participants. As many locals couldn't get used to the new rules, the foreigners, who knew the rules, had the upper hand. Some of them were excited enough to dance playfully after winning several rounds. Satina, who has been living in China for over ten years, introduced mahjong to foreigners in Changzhou. She learned to play the quintessential Chinese game when she lived in Xi'an, Shaanxi province in 2002. Once she arrived at Changzhou and found foreigners seldom play mahjong here, she started to teach them.
Kristal, a Danish teacher who has lived in Changzhou for about two years, said she has fallen in love with mahjong and plays it every week during this summer holiday. "Mahjong is good entertainment and brings us closer to Chinese culture", she says. She taught her daughter Christel to play as soon as she arrived in Changzhou on a visit a few days ago.
The match's organizer, Hang Bin, was thinking about opening a mahjong club all year; now he's made it happen. Posters and books about mahjong are everywhere in his club. With foreigners from more than 10 countries taking part in the matches, Hang will organize his next mahjong tournament in the hope the game will promote communication between foreigners and locals.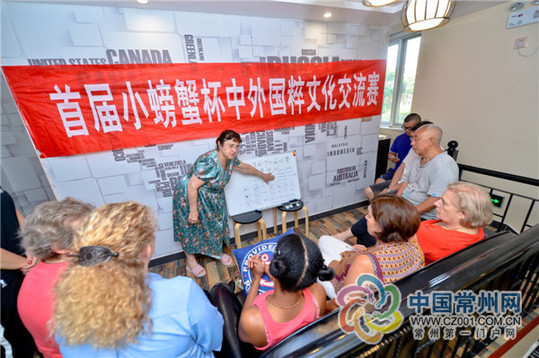 Satina explains the playing rules of mahjong before a friendly match in Changzhou, Jiangsu province, Aug 11. [Photo/ cz001.com.cn]