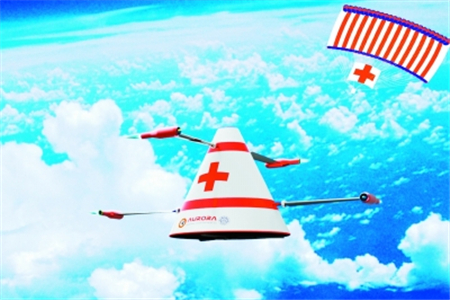 The design concept of Aurora. [Photo/ js.ifeng.com]
An aircraft designed by students from Nanjing University of Aeronautics and Astronautics (NUAA) have won first prize in the undergraduate student category of the 33rd Annual Student Design Competition.
The design requirement of the competition, sponsored by the American Helicopter Society (AHS), was to build "an unmanned rotorcraft, capable of deployment from the ramp of a C-130J in flight" used for disaster relief delivery.
The rotorcraft must be able to "deliver supplies to remote areas from above and return to a predetermined base for recovery".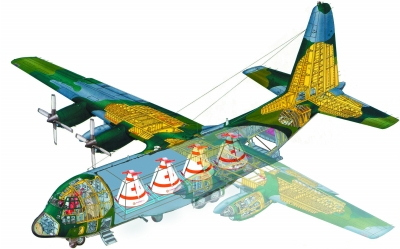 Aurora will be deployed from C-130J airplanes. [Photo/ js.ifeng.com]
The seven-member team was the only prize-winning team from China. The team's design, Aurora, stood out from 19 others and means the team can participate in AHS International's 73rd Annual Forum & Technology Display in 2017.
The team began designing the rotorcraft in October 2015 and whittled five designs down to a final one after conducting calculations and discussions.
In addition to meeting the competition's requirements, Aurora has a number of other features such as rocket engines that reduce weight, retractable paddles that save space and a cone-shaped fuselage that increases the cargo-holding capacity.
"We included the steps of data collection, our intentions and our thought processes in the final report," said Yan Wei, Aurora's team leader.
"That might be an important reason why we won."
Xu Yiwei contributed to the story.