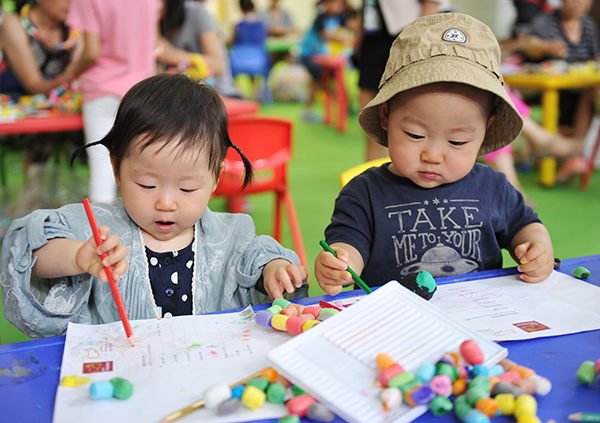 Two children in Beijing learn to use pencils. [Photo provided to China Daily]
The end of China's one-child policy has greatly stimulated the development of the baby care market, with everything from vitamins to photography seeing strong demand and rising prices, Guangzhou Daily reported.
Sales of pregnancy and prenatal vitamins and fertility drugs for women increased by 66.9 percent in the second quarter from last quarter on Jianke.com, a leading online drug store.
Female visitors to the website also rose by 45.3 percent, while fertility drugs for men and male visitors grew by 39 percent and 51 percent respectively.
Xie Fangmin, CEO of Jianke.com, said the two-child policy has directly fueled the growth of baby care products and means a bright future for the online pharmacy business.
Guangzhou Baiyunshan Zhongyi Pharmaceutical said a drug it made to assist fertility and protect the fetus saw sales growth of 169 percent in the first six months.
Many maternal and child healthcare hospitals in Guangzhou city, capital of South China's Guangdong province, are already crowded with pregnant women, who might need to register to see a doctor one week earlier.
Other products and services targeting mothers and children have also seen golden opportunities following the birth policy relaxation. Guangzhou now boasts over 500 baby and mother specialty stores. In the city's major commercial street Shangxiajiu, many clothing stores have transformed themselves into baby bath services.
A shopping mall owned by Guangzhou Friendship Group has increased its area for baby specialty products by 30 percent, and also offered new playgrounds to attract consumers.
Wu Ruixi, manager of a local child photography studio, said the business will grow at least 30 percent and that the store has started training new employees and expanding its office space.
Insiders said the market for toys, clothes and other baby products will benefit hugely as more families have two children.