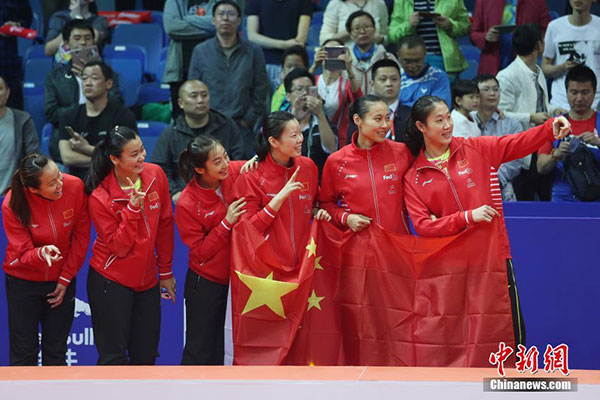 Team China pose for a selfie after winning their third straight Uber Cup title by beating South Korea 3-1 in the final on Saturday. [Photo/chinanews.com] 
KUNSHAN - Top seed China secured their third straight Uber Cup title by beating South Korea 3-1 in the final here on Saturday.
It was the third time in the last four years for China to meet South Korea in the Uber Cup final. The host enhanced the dominate position again by claiming their 14th Uber Cup title.
World No 3 Li Xuerui won the opening singles match with a hard-fought win of 14-21, 21-13, 21-10 over Sung Ji-hyun, keeping her unbeaten record in the Uber Cup.
South Korea leveled the score after Jung Kyung Eun/Shin Seung Chan overturned Olympic Champions Tian Qing/Zhao Yunlei 16-21, 21-17, 25-23 in a 94 minutes match.
"We didn't play well enough in this match, specially in defence. We give them too many chances to score in the second and third game." sai Zhao.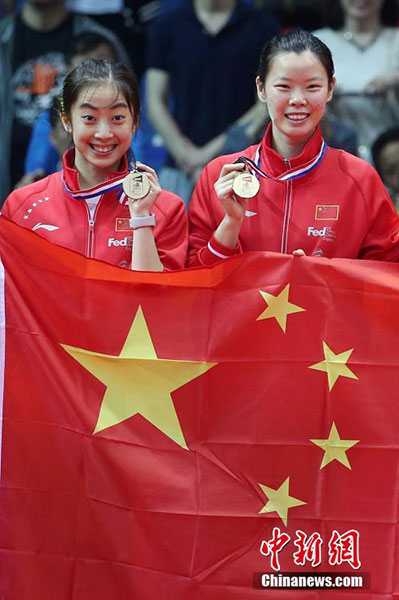 Wang Shixian (L) and Li Xuerui are seen at the award ceremony. [Photo/chinanews.com]
Wang Shixian put China back to top when she swept Kim Hyo-min 21-13, 21-12 before teenage pair Chen Qingchen/Tang Yuanting clinched the winning point by beating Chang Ye Na/Lee So Hee 21-14, 21-16.
Li Yongbo, the head coach of China, commented Chen and Tang with a high praise.
"They just play together since the second match of group stage and they had a perfect performance today. I believe they will be the Olympic champion in the future," Li said.
Retaining the Uber Cup can be regarded as a consolation for China, which suffered the first absence of Thomas Cup's semifinal in this tournament.
Sunday will see Indonesia play against Denmark in the Thoms Cup final.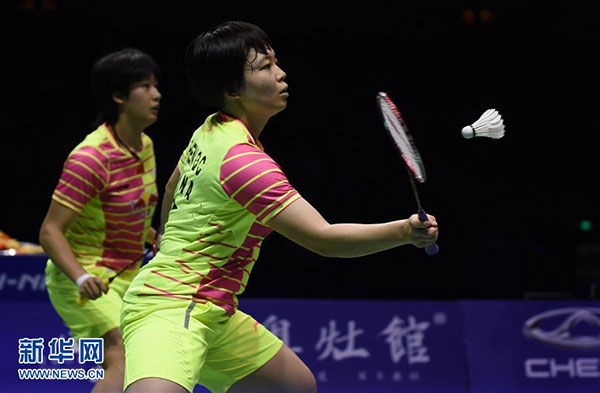 China's women's squad beat South Korea 3-1 to claim the title at this year's Uber Cup badminton tournament earlier this Saturday afternoon. [Photo/Xinhua]