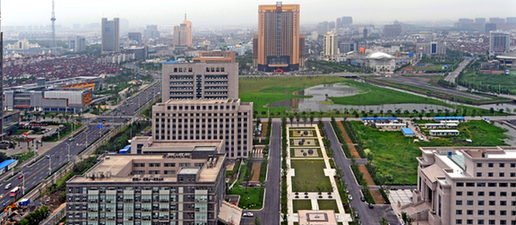 Wujiang district in Suzhou is regarded as having one of the most robust private economies in China.[Photo/zgwj.gov.cn]
Jiangsu-based Hengli Group, the world's largest weaving enterprise, has outlined plans to invest 74 billion yuan ($11.5 billion) into the Hengli Refining and Petrochemical Integrated Complex.
Construction on the project started in Dalian in December. It is estimated that the annual production value of the project will reach 230 billion yuan, according to Chen Jianhua, president of Hengli Group.
Having amassed assets worth 30 billion yuan, Chen and his wife, Fan Hongwei, from Wujiang district, Suzhou, ranked 49th on the 2015 Hurun Rich List.
Out of the 705 businessmen on the list, 53 were from Suzhou, 30 from Wuxi and 24 from Nanjing. According to Hurun's list of the Top 10 richest people in Suzhou, six hailed from Wujiang district.
Home to so much of Suzhou's wealth, it was the development of a prosperous private economy from rural township enterprises that is the key to Wujiang's success. In 1939, the eminent sociologist Fei Xiaotong predicted a strong economy arising from emerging rural enterprises in Wujiang at the time.
Wujiang was once famed for its domesticated silkworm history and hand-made silk industry. However, the industrialization of the town hit its traditional industry hard, leaving many farmers in dire financial straits.
To alleviate local farmers from poverty, Fei's elder sister, Fei Dasheng opened China's first share-holding rural township enterprise in Wujiang's Kaixuangong village in 1929.
The raw silk production and marketing company that was established had 11 workshops and was equipped with 32 silk reeling machines and 16 re-reeling machines from Japan. It had 70 workers and 430 farmers as cooperative members.
It was from this small enterprise that Fei Xiaotong saw the incredible potential of village industry. He spread his idea to develop small and medium-sized companies in villages through speeches and books.
The prosperous development of rural township companies prompted local economy in Suzhou. In 1987, Wujiang had 1,402 rural township companies with an annual output of 127.67 million yuan ($19.5 million).
As more and more companies established in villages in Suzhou, and in neighboring regions, the successful private economic development in villages was dubbed as the "Sunan pattern" development.
Today, Wujiang's robust private economy remains. Private companies hold up pillar industries such as IT, silk textile and optical cable and equipment manufacturing. According to statistics, private investment in Wujiang reached 28.6 billion yuan in 2014, with annual industrial output over 200 billion yuan.