The 2015 Jiangsu Grand Canal Tourism Promotion Campaign Month, an event to further explore and protect the Grand Canal tourism resources, kicked off in Yangzhou, a Canal-side city in Central Jiangsu, on Sept 30.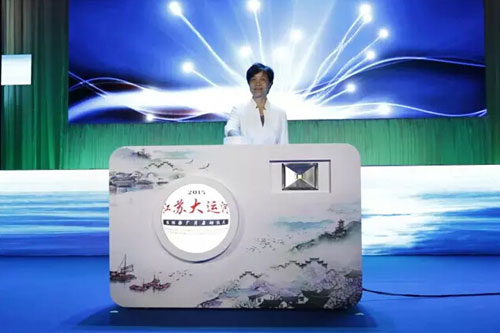 Xu Jinrong, vice governor of Jiangsu province, declares the campaign month open. [Photo provided by Yangzhou Tourism Bureau]
East China's Jiangsu province, with its eight cities situated along the Grand Canal, aims to promote the local Canal-themed tourism and attract more tourists from home and abroad, according to an official at the provincial tourism office.
The event, which will last till late October, is co-hosted by the provincial and eight city-level tourism bureaus. They will host a series of activities including a photography competition, intangible cultural heritage exhibitions, food festivals and night boat parades in the cities along the Grand Canal.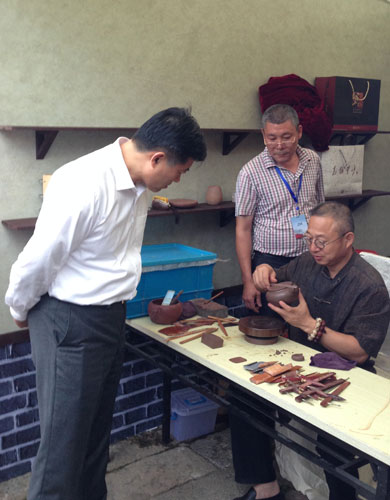 Local craftsman shows the workmanship of 'purple clay teapot', an intangible cultural heritage in Wuxi, to Qin Jing'an (left), head of Jiangsu Tourism Bureau. [Photo by China Daily]
The 1776-km Beijing-Hangzhou Grand Canal is the longest man-made canal in the world. Starting in Beijing, it passes through the city of Tianjin and the Hebei, Shangdong, Jiangsu and Zhejiang provinces to come to an end in Hangzhou, linking up the Yellow River and the Yangtze River.
Completed during the Sui Dynasty period (AD 581-618), it was the main travel and transportation route between northern and eastern China before modern transportation means were introduced in the 19th century. On June 22, 2014, the Grand Canal was listed by UNESCO as a World Heritage Site.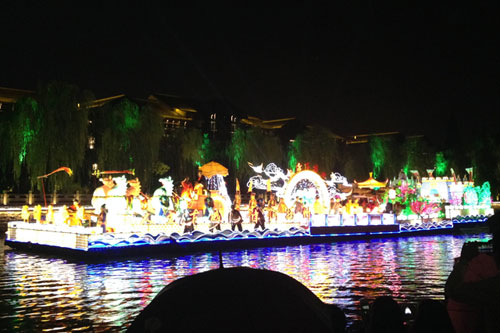 A night boat parade [Photo by China Daily]