50 big data projects were signed at the Yancheng Big Data Industry Promotion conference on August 10, in Beijing. Over 200 Beijing and Shanghai-based companies and more than 50 media were present for the conference.
Yancheng is situated in Eastern China's Jiangsu province, at the connection point of the Belt and Road Initiative and the Yangtze River Economic Zone. The big data industry was designated to be a driving force for the city's industrial upgrade, livelihood improvement and economic restructuring.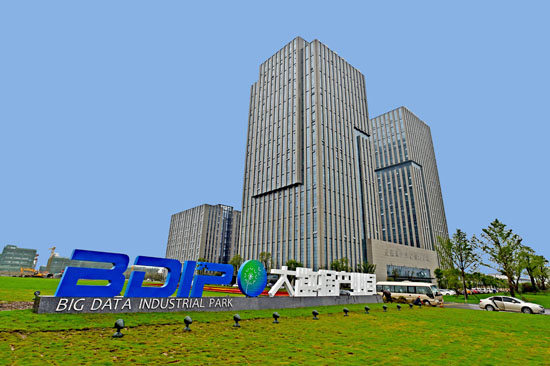 The Big Data Industrial Park in Yancheng, Jiangsu province. [Photo provided to chinadaily.com.cn]
The city has been developing new industries and models surrounding cloud computing, big data and e-commerce. Big data projects are clustering in the city, which is becoming a highland for data resources.
A 30-square km big data industrial park was established in the city, the first one jointly organized by provincial and municipal authorities. With competitive support facilities, the park was included in the city's overall plan for the Internet economy, cloud computing and big data.
The park has mapped out multiple platforms for companies engaged in data storage, data cleaning, data analysis and data application.
To date, 15 R&D organizations, including the global-leading green data center of the Chinese Academy of Sciences, have settled down in the park. 78 projects, valued at nearly 10 billion yuan ($1.61 billion), have already opened in the park, and the first big data resource exchange platform in Eastern China will also join.
The park places high priority on professionals and has already introduced six academics, and over 80 top experts in different fields.
Yancheng will set up a leading fund of 1 billion yuan and another 1 billion yuan venture fund for the big data industry, in addition preferential policies on operation costs, talents and innovation.
In the next five years, the city hopes to cultivate and introduce 500 big data companies and achieve gross output value of 50 billion yuan.