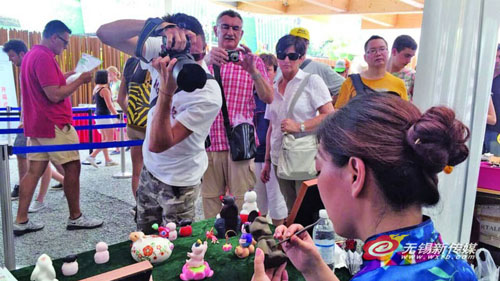 Wuxi clay figurines attend Expo Milano 2015 Jiangsu Week in Italy on July 6. [Photo/wxrb.com]
The traditional Chinese handicraft of clay figurines hailed from Wuxi in Jiangsu province and featured at Expo Milano 2015 Jiangsu Week, which opened on June 6 and will last for six days.
Clay figurine is the only one in Wuxi city being invited to join the handicraft exhibition in Jiangsu Week at China pavilion.
It is not the first time for Wuxi clay figurines to visit Italy, according to Zhou Lu in Milan, a clay figurine artist from Wuxi. She said the figurines, called "A Fu" (meaning blessing) and "A Xi" (meaning happiness) received critical acclaim four years ago when she participated in the "Year of China" in Italy.
A dozen clay figurines are on display at the expo. While they are not expected to be sold, they have attracted much attention from passers-by, many of whom have enquired about their prices.
This time around, Zhou brought traditional "A Fu" products along with some new designs. The Chinese style figurine called "Lotus Children" is composed of a boy infant sitting on a lotus flower and a girl infant sitting on a lotus root. Another design considered to be lucky is a combination of a sheep and rabbit. Plum blossom patterns are printed on the back of the sheep, while the rabbit features cloud patterns and rides the sheep's back, spitting out a lucid ganoderma.