China has become the first member to nominate a candidate for president of the emerging Asian Infrastructure Investment Bank, according to a Finance Ministry statement on Monday.
The selection of Jin Liqun, currently secretary-general of the Multilateral Interim Secretariat for the AIIB, is not surprising, analysts said. Long before the announcement, Jin had been widely discussed by outsiders as the most likely candidate for the post.
"Jin Liqun ... has an outstanding leadership record in the public and private sectors, and in multilateral development institutions," the statement said.
"There is a widespread expectation among the prospective founding members that the first president of the AIIB should be a Chinese national," said a source close to the process who requested anonymity. "But too much publicity is not necessarily good for the outcome."
Jin has an impressive resume. After graduating from Beijing Foreign Studies University as an English language major, he joined the Ministry of Finance and in the 1980s was sent to the World Bank Group as an alternate executive director for China. He went on to become vice-minister of finance before he was appointed as vice-president of the Asian Development Bank in 2003.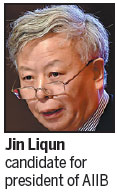 He was described by his fellows as experienced, savvy and pragmatic, and they said he did much of the backdoor negotiating that persuaded key countries, including Britain, Germany, Australia and South Korea, to join the AIIB.
Fluent in both English and French, he is also a fan of Chinese classic literature. He has described himself as a bookworm who devotes most of his spare time to reading.
Since taking his current post, the official has declined to answer inquiries from the media .
Jin has emphasized on several public occasions that he envisions a "lean, clean and green" bank that features "21st century-style management".
According to provisions of the articles of agreement of the AIIB, the president of the bank must be elected through an "open, transparent and merit-based" process. The president should be a national of a regional member of the bank.
The deadline for nominations for president-designate is July 31, while a meeting of the prospective founding members is to be held in late August to select the candidate, the Finance Ministry said. So far, there are no other nominees.
zhengyangpeng@chinadaily.com.cn
(China Daily 07/07/2015 page3)