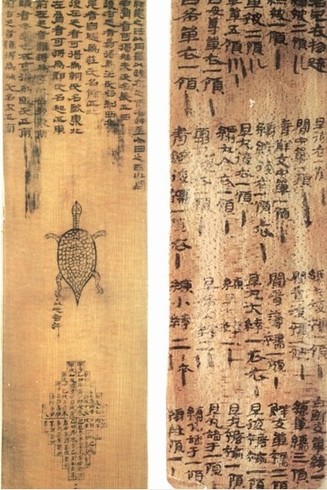 [Photo/sp.lygwh.gov.cn]
The 23 wooden strips and 133 bamboo scripts excavated from the No 6 Han Dynasty Tomb in Yinwan village, Donghai county, Lianyungang, Jiangsu province, contain important information about the history of the Silk Road.
According to the Book of Arms written on wooden strips found in the tomb, Princess Xijun (121BC-101BC),daughter of Liu Jian, Lord of Jiangdu Area (today's Yangzhou city), sent by Emperor Wu of Han Dynasty (206 BC–AD 220) to marry the leader of Wusun tribe to form a military alliance against Xiongnu tribe, presented 93 weapons to the Wusun tribe that lived in the the Dzunghar Basin in the northwest of modern Xinjiang today.
Historic records suggest that the leader of Wusun accepted the offer of alliance, sent tribute horses to the Han and welcomed the Han princess as his wife.