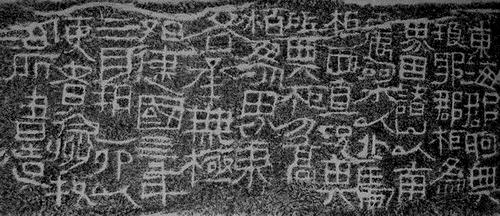 [Photo/World of Antiquity]
Discovered in 1999, the boundary stone between Donghai Shire and Langya Shire at Western Han Dynasty in Suma Bay of Lianyungang, Jiangsu province, was erected in AD 12.
The 62 characters carved on the stone state, "the sea area from Jiaozhou Bay to the east of Guixian county belongs to Langya Shire and the waters from the south of Guixian county to the east of the estuary of Guanhe River belongs to Donghai Shire".
It was the earliest boundary stone and the earliest text about county-level territorial water rights stated on a stone found in China.
The boundary stele dating back over 2,000 years also indicates that hometown of Xu Fu, the first pioneer of the eastern route of the ancient Maritime Silk Road during Qin Dynasty (221-206 BC), was at the Langya Shire on historical records.