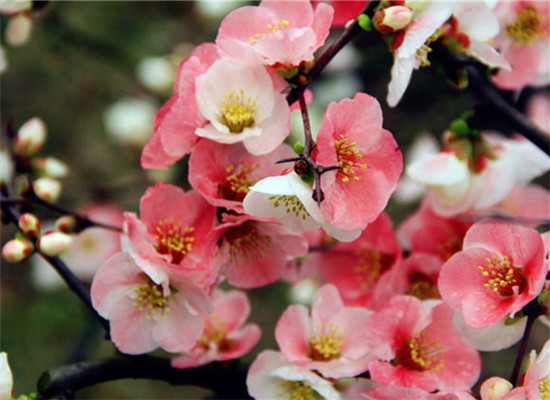 Chaenomeles cathayensis blossom at Mochou Lake Park [Photo provided by Yangtse Evening Post]
Mochou Lake, located west of the Qinhuai River in Nanjing, Jiangsu Province, boasts a long history of 1,500 years as well as profound cultural and tourism resources. Taking up 583,600 square meters, it has a collection of pools, gardens, pavilions, and a stunning rock display. While its most outstanding feature is the Shengqi Pavilion, a two-storied structure redolent of the austere architecture of ancient China.
The lake was once part of Yangtze River. Later the channels of Yangtze River and Qinhuai River changed directions and no longer had intersections, which was when Mochou Lake gradually became a lake.
There were also tales concerned its name, Mochou, which was said to be originated from a beautiful woman called Mochou, which means "do not worry" in Chinese, from the Liang dynasty (502-557) who committed suicide to prevent herself from being married to an undesirable man.
Another tale has it that Mochou was a beautiful and virtuous woman who lived during the Northern and Southern Dynasty (386-589). She was married and had a child. Her happy life was disrupted when her husband was conscripted into the army. No news of her husband came even after months of his leaving for the front. Mochou grew sadder with each passing day. Finally, unable to shake off the grief of separating from her husband, she turned into a lake, with the hope of flowing to her husband. The lake was named after this woman, as a tribute to her unflagging love and devotion to her husband.