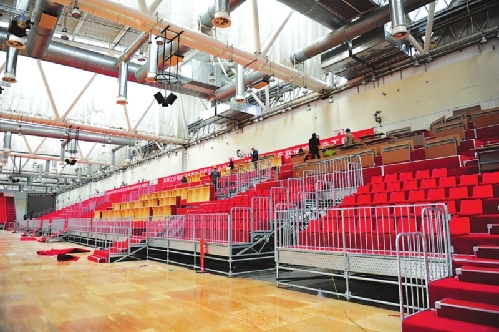 Staffs installing the spectator seats in the venue. [Photo/ Suzhou Daily]
Preparations for the 53rd World Table Tennis Championships (WTTC) got underway in Suzhou, Jiangsu province, recently and are expected to be finished by the end of March. The event – an important fixture on the professional table tennis calendar – will be held in the city from Apr 26 to May 3.
The championships will take place on the third floor of the 5000 capacity Suzhou International Exposition Center, where eight games can be played simultaneously. More than 2,100 athletes from about 160 countries and regions will attend, as well as table tennis fans from around the world.
According to a report in Suzhou Daily, choosing the Suzhou International Exposition Center to be the venue was based on the standard of frugality and trying to minimize the impact on the local life. The construction project for the event's preparations has been compressed into a short period of time, starting on Dec 1, 2014; so far 90 percent has been completed. The sponsor will invite a small number of citizens to visit towards the end of March.
In addition, the local organizer of the championships has recruited 800 volunteers to serve as guides, receptionists, and venue assistants. The volunteers began training one day every weekend for the event earlier this month.
As a world table tennis competition of the highest level and sponsored by the International Table Tennis Federation (ITTF), WTTC is one of the top three world table tennis competitions in the world, together with the Table Tennis World Cup and the Olympic Games.
Edited by Jacob Hooson