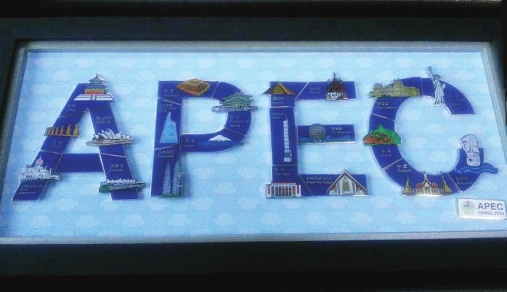 This APEC commemorative medal has only 500 sets worldwide.
A Suzhou company received a commemorative medal in appreciation for its service to make silk clothes for world leaders attending the 2014 APEC Summit in Beijing.
Wujiang Dingsheng Silk Company used the precious Song Brocade to tailor-make clothes for the world leaders and their spouses. The Song Brocade added Chinese elements to the high-profile meeting and also gained exposure to the world.
The commemorative medal actually consists of 21 small badges that form "APEC" in a frame, representing 21 APEC countries. The medal has a limited edition of 500 sets and is given to APEC leaders, other delegates and outstanding contributors.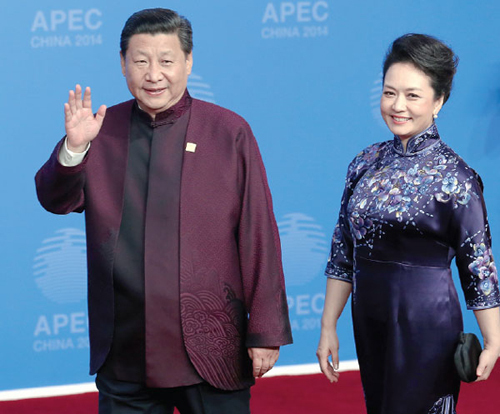 Chinese President Xi Jinping with his wife, Peng Liyuan, dressed in new Chinese-style outfit made with Song Brocade for the APEC Leaders Meeting banquet.[Photo/China Daily]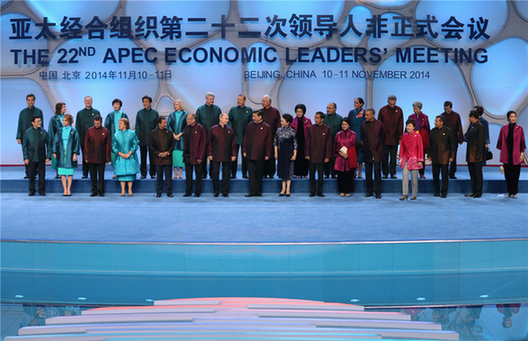 Chinese President Xi Jinping and his wife Peng Liyuan pose for a group photo together with other country leaders and their spouses attending the 22nd APEC Economic Leaders' Meeting in their Suzhou silk brocade outfits in Beijing, Nov 10, 2014. [Photo by Xu Jingxing/Asianewsphoto]