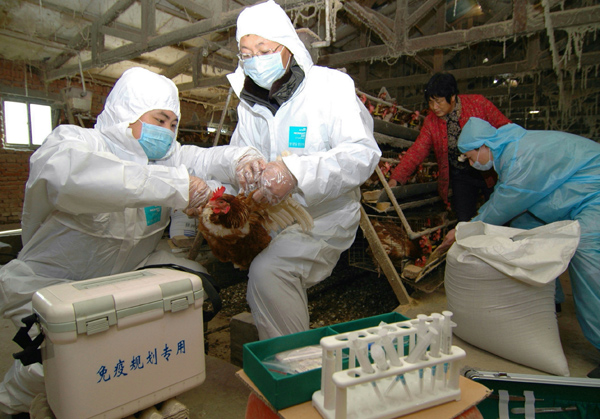 Technicians collect blood from a chicken to help poultry feeders disinfect the farm in Linghai, Liaoning province, on Tuesday. [Photo/China Daily]
GUANGZHOU -- The number of H7N9 human cases in South China's Guangdong province has reached 42 this year with three more cases reported, local health authorities said on Sunday.
A 73-year-old man surnamed Deng in Guangdong's Zhongshan city and a 56-year-old man surnamed He in Jiangmen city were confirmed infected with the bird flu, the provincial health and family planning commission said in a statement. The two men are in critical condition.
A 52-year-old man surnamed Cheng recently diagnosed in Shenzhen city is stable, the commission said.
Guangdong is in the high-incidence period for bird flu, which occurs in winter and spring.
Thousands of chickens have been culled in Guangdong and Hong Kong this year. Several cities in Guangdong have taken measures to restrict live poultry trade.
In addition to Guangdong, Shanghai, Fujian, Jiangxi and Zhejiang in East China have all reported human cases of H7N9 this winter.
H7N9 is a bird flu strain first reported to have infected humans in March 2013.