The BMW China Culture Journey has traveled more than 15,000 kilometers across 20 provinces to donate 7 million yuan to 69 cultural groups in need of protection during the past seven years, reports Zhang Zhao.
Every year a BMW fleet of national media, cultural experts, customers, dealers and associates, go on expeditions to explore, protect and promote cultural heritages. Last year a fleet visited East China's Jiangxi province.
The BMW project, which has run for the past seven years, aims to protect traditional culture by providing material support and awaking the public's protection consciousness of cultural heritages across the country.
The project's latest journey started on Sept 10 last year at Prince Teng Pavilion, a cultural site in the provincial capital Nanchang that was built 1,400 years ago. There a convoy of 30 BMW cars set off to explore the culture, art and handicrafts of the province via two routes.
In Jingdezhen, a city well known for its porcelain making industry, the BMW convoy visited centuries-old workshops and saw experienced workers showcase their skills.
They also learned about handmade umbrellas, which were made in Wuyuan county's Jialu village. The umbrellas are enjoyed not just as rain gear but more as works of art.
In Hukou county, a traditional local opera, called Qingyangqiang, drew the attention of participants. The opera was first developed in Anhui province in the Ming Dynasty (1368-1644), and was one source of the renowned Peking Opera.
Members of the convoy visited Yin Wuhuan, the oldest Qingyangqiang performer in the northern Jiangxi region, who still sings on stage.
Born in 1932, Yin started to learn opera when he was 10 years old but had to stop because of World War II.
After the war opera thrived again as people used it to celebrate victory and Yin continued to sing, learning dozens of classic works.
As many opera masters passed away over the following decades, Yin worried the art was in danger of extinction until he met Liu Chunjiang, art researcher and former director of the county's culture museum.
Liu decided to help Yin and other local artists study and promote Qingyangqiang.
They visited more than 300 artists in Jiangxi and nearby provinces and collected 131 handwritten scripts with more than 110 hours of audio footage.
"We have studied Qingyangqiang for 30 years and cannot bear to watch it die out," Liu said. "We will try our best to save it and pass it down."
In 2007, a Qingyangqiang research center was founded in Jiujiang University with Liu teaching the art as a part-time professor.
In the same year the first BMW China Culture Journey started as a key project in the auto giant's commitment to corporate social responsibility.
The project has set "an example on how social powers can take part in the protection of intangible cultural heritages", said Wang Nengxian, deputy director of the Chinese National Academy of Art.
The project has so far covered more than 170 cultural heritages along a combined journey of 15,000 km across 20 provinces.
These included the Silk Road and grasslands in northern China and the Beijing-Hangzhou Grand Canal and riverside towns in the south.
BMW China Culture Journey has also donated 7 million yuan ($1.13 million) to nearly 70 cultural heritage research programs. This included 1 million yuan donated last year to 11 programs.
Ruan Lizhi, a BMW car owner in Hangzhou who joined last year's journey, said the traditional cultural heritages of Jiangxi are "emotionally shocking".
"They are so strong that have survived after thousands of years," he said. "We must treasure them and protect them so that our children and grandchildren could still have the chance to see those precious things."
Contact the writer at zhangzhao@chinadaily.com.cn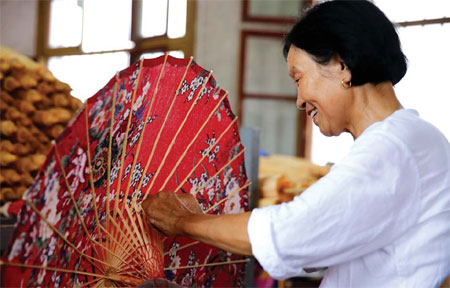 Handmade umbrellas from Wuyuan are a popular handicraft in Jiangxi. Photos Provided to China Daily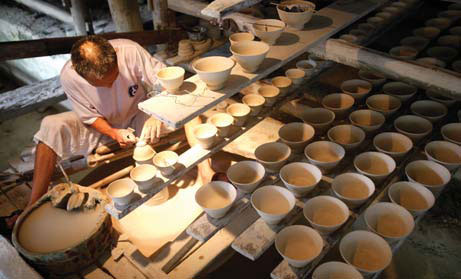 Jingdezhen has been a famous region for porcelain for 1,000 years.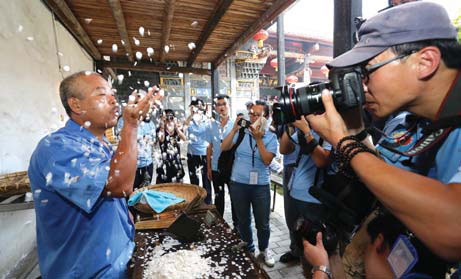 A worker demonstrates traditional techniques to make herbal medicine.