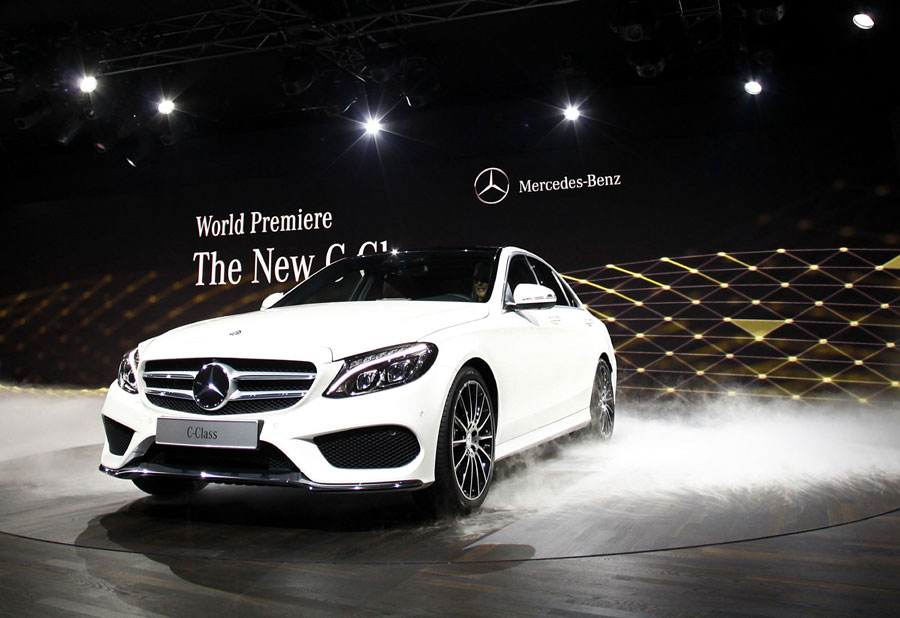 The new Mercedes-Benz 2015 C-Class is displayed during a private preview for media at the Westin Book Cadillac Hotel in Detroit, Michigan, Jan 12, 2014, on the eve of the 2014 North American International Auto Show.[Photo/Agencies]
DETROIT -- The 2014 North American International Auto Show kicked off in Detroit Monday with the debut of more than 50 new and concept cars, featuring fuel-efficient and lighter-weight models.
German car manufacturer BMW released two models, the M3 Sedan and M4 Coupe, both of which are equipped with six-cylinder turbocharged engines and are light, powerful and fuel-efficient.
"These two high-performance sports cars are the result of meticulous and passion-fuelled development. They set new standards in terms of overall concept, precision and agility," said Ian Robertson, a member of BMW AG's board of management.
Mercedes Benz, competing with BMW on the luxury car front, introduced the 2015 C-Class Mercedes-Benz compact car.
The new model, equipped with a turbocharged 2.0 liter four-cylinder engine or a turbocharged 3.0 liter V6 engine, features an aluminum-made body and is the most aerodynamic car in the C-Class.
Chrysler, meanwhile, introduced its redesigned 2015 Chrysler 200, which has a brand new outlook and is equipped with either a four-cylinder or six-cylinder engine.
Al Gardner, chief executive officer of Chrysler Brand, said he expected the new car would increase fuel efficiency and Chrysler's competitiveness in the market.
Chevrolet also revealed its new Corvette Z06 truck car, which boasts a removable roof panel with a stiffer aluminum frame, and is the fastest Corvette track car.
Two other cars from Chevrolet, the Chevrolet Silverado and the Chevrolet Corvette Stingray, which were released at last year's show, were awarded with the North American Truck/Utility of the Year and North American Car of the Year respectively.
The winners, first awarded in 1994, are selected by an independent jury of broadcast, print and online automotive journalists.
Toyota presented a new FT-1 sports car equipped with a front-engine and rear wheel-drive. The FT-1 is part of Toyota's aim "to produce cars that connect more deeply with customers, generating a more satisfying ownership experience," said Alex Shen, chief designer at Toyota's Calty Design Research Inc. in California.
U.S. car maker Ford unveiled its new F-150 truck, featuring a lighter-weight aluminum body.
The new model, equipped with a 2.7-liter or 3.5-liter V6 Ecoboost engine, is more fuel-efficient and much lighter than the steel-made autos.
"It's made from a high quality aluminum alloy that's more dense and more resistant to corrosion and corruption," said Raj Nair, vice president of global development at Ford.
Lexus, Infiniti, Subaru, Cadillac and Tesla are among the car manufacturers to present their new cars during the show, which runs until Saturday.