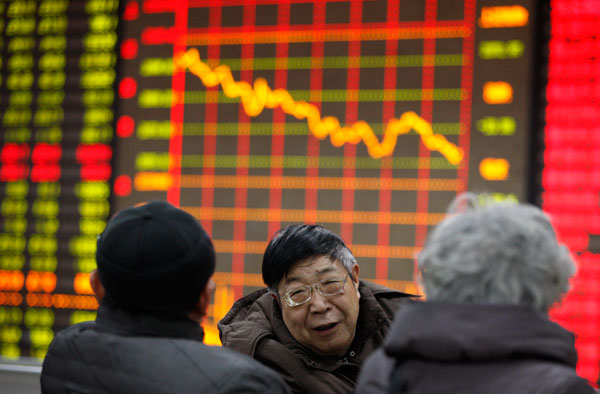 Investors follow the markets in Huaibei, Anhui province. The benchmark Shanghai Composite Index was down 1.58 percent to 2,073 on Dec 26. [Xie Zhengyi / for China Daily]
BEIJING
- Following another disappointing 2013 and a poor opening week in the new year, caution has become order of the day for investors and regulators of
the Chinese stock market
.
The China Securities Regulatory Commission (CSRC) on Sunday announced new measures to tighten the supervision of the Initial Public Offering (IPO), two days after a drug maker shelved its share sale plan, saying "the proposed issuance was too big."
Jiangsu Aosaikang Pharmaceutical Co Ltd said in an exchange filing last Friday that it would postpone its listing due to its relatively large fund-raising and equity transfer scale.
The maker of anti-cancer agents had planned to debut on the ChiNext board by selling 55.46 million shares priced at 72.99 yuan ($11.97) each, which could raise a capital of 790 million yuan from the IPO. The price-to-earning (PE) ratio is 67 times its 2012 net profit, setting a new record of PE ratio since the restart of China's IPO at the end of 2013.
Through transferring 43.6 million shares, the controlling stakeholders of the company are expected to pocket 3.18 billion yuan, which is much higher than the company's IPO fund-raising scale, a move that has been widely considered as profit-taking and caused discontent among investors.
No unrestrained freedom
Though China has vowed to let the market work its magic by awarding it a "decisive" role in economic activities, reduced government intervention is not synonymous to a lack of supervision. This is also true when it comes to the financial sphere.
After a suspension of over one year, the IPO was relaunched in December, saddled with a new reform plan that changes the system from approval-based to registration-based.
Financial regulators said the change does not mean relaxation of regulation, but more supervision during and after the listing.
CSRC spokesman Deng Ge said in a media briefing on Friday that new reforms in the IPO market does not mean "unrestrained freedom".  Pricing manipulation in new share issuance is not allowed and the issuers and underwriters shall respect market fairness by designing a reasonable ratio of new shares and old ones.
In Sunday's announcement, the financial watchdog required issuers and underwriters to publish timely investment risk reports at least once a week during the three weeks prior to online subscription, if the PE ratio manifested in the proposed IPO price is higher than that of their listed peers.
The CSRC said it would conduct spot checks on the IPO roadshows and halt a company's IPO and mete out punishment if its issuers and underwriters used information other than what is disclosed publicly in its prospectus.
As of last Friday, 51 companies got the nod for IPO and the CSRC will not review new IPO applications till March.