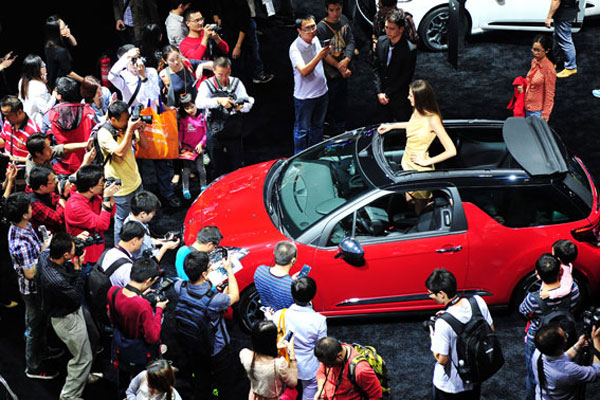 Visitors look at a new car model at a recent auto show in Guangzhou, Guangdong province. [Photo/Xinhua] 
BEIJING - Chinese automakers will account for one-third of new auto sales worldwide by 2020 with continuing investment in the sector, according to a report released Monday by KPMG, one of the "Big Four" international accounting networks.
KPMG's fifteenth annual Global Automotive Executive Survey showed that sales are expected to surge in BRIC countries, particularly in China. Of the top 20 Original Equipment Manufacturers (OEMs) expected to gain larger market shares in the next five years, ten are from China, according to the survey.
Two hundred automotive executives participated in the survey, over half of whom are business unit heads or higher. All of the participants represent companies with annual revenues greater than $100 million, and 39 percent work for firms with revenues of over $10 billion.
Chinese survey respondents ranked urban vehicle design as their top priority.
"The phenomenal expansion of cities in China is putting pressure on infrastructure and our prediction is that there will be greater demand for solutions such as improved connectivity, lightweight materials, alternative powertrains and even, eventually, self-driving cars to avoid congestion and pollution," said Andrew Thomson, Asia Pacific and China Head of Automotive and a Partner at KPMG China.
China is rated as the number one investment destination, attracting positive sentiment from 73 percent of respondents in the BRIC countries.
While Chinese and other BRIC automakers are still struggling to conquer the more mature markets of Western Europe and North America, their own domestic markets provide enormous potential, which is reflected in the high proportion of companies planning to either begin or increase their investment in these regions.
"Chinese auto consumers have high expectations and are increasingly keen to have more options available to them in their vehicles, a wide variety of products to choose from and good service from enhanced dealer networks," said Thomson.
The report notes that an increasing proportion of automobiles produced by BRIC companies are aimed at export markets. Forty-four percent of respondents (doubled from a year ago) said they are confident that China will export over two million cars within two years, faster than previously expected. In 2013, a majority (47 percent) said they believed China's exports will exceed 2 million cars in 3-5 years.
However, Thomson doubts China can match such bold expectations, as a big export push - especially into the more mature auto markets - would require significant efforts to improve not only quality, but also brand perceptions and distribution networks. The current top export destinations for Chinese cars are Russia, Brazil, Iran and Venezuela.
"China continues to be a key focus for almost every OEM and prospects continue to look bright for the future. Whilst Chinese OEMs continue to make progress, questions remain in respect of their future development. Meanwhile, their foreign counterparts continue to lead the Chinese market. As the auto industry becomes more global, it will be interesting to see who emerges as China's winners and losers," said Thomson.