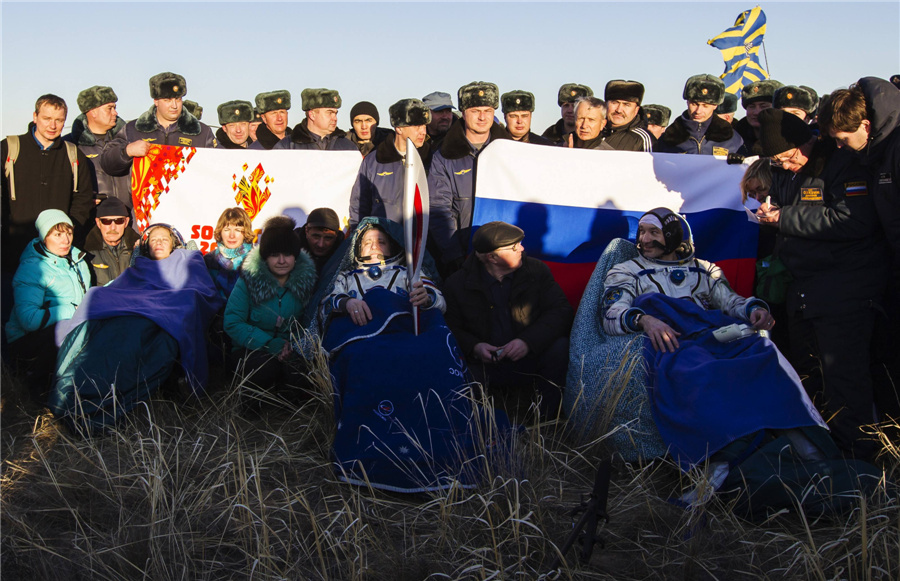 The International Space Station (ISS) crew of US astronaut Karen Nyberg (L), Russian cosmonaut Fyodor Yurchikhin (C) and Italian astronaut Luca Parmitano rests after landing in a remote area near the town of Zhezkazgan in central Kazakhstan Nov 11, 2013. [Photo/Agencies]
RECORD RELAY
Yurchikhin, Nyberg and Parmitano spent 166 days on the station, a $100 billion project of 15 nations.
The torch was brought up to the space station on Thursday by Japanese astronaut Koichi Wakata, American Rick Mastracchio and Russian Mikhail Tyurin aboard another Soyuz craft that lifted off from the Russian-leased facility at Baikonur.
Russia cast the spacewalk as part of its pre-Sochi torch relay, a record-breaking trek meant to show off Russia's size, diversity and post-Soviet achievements, although the 65,000 km relay continued separately on the ground.
Bearers have taken the flame to the North Pole on an atomic-powered icebreaker and will bring it to Europe's highest peak, Mount Elbrus, in the longest torch relay before any Winter Games.
The returning space station crew also brought back a piece of the spacesuit worn by Parmitano that may have been responsible for a leak that caused his helmet to fill with water, forcing an emergency end to NASA's last spacewalk on July 16.
The torch display was a success, with Kotov and Ryazansky snapping images of the torch with the metallic station, space and Earth as backdrops. But other tasks on the nearly six-hour spacewalk did not go as well.
The cosmonauts were unable to fold up an antenna from an experiment involving predicting seismic events such as earthquakes, leaving it for a future outing.
They also did not complete the task of repositioning a platform designed to anchor spacewalkers' legs while they work outside the station.