Auctioneer shows off 118-carat diamond in NYC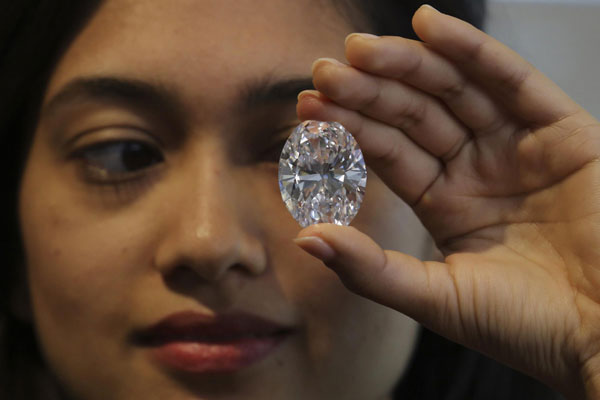 An employee holds a 118.28 carat, flawless D Color Magnificent Oval Diamond at Sotheby's auction house in New York September 4, 2013. First discovered in deep mines in Southern Africa and chiselled from a huge 299 carat rough, the gem is expected to fetch between $28 and $35 million at an upcoming auction in Hong Kong on October 7. [Photo/Agencies]
NEW YORK - A New York auction house is showing off what it calls the world's greatest white diamond on the block - a 118-carat stone from Africa the size of a small egg.
The oval diamond glistened in its glass case Wednesday at Sotheby's Manhattan headquarters, not yet mounted after it was mined and cut two years ago. It will be auctioned in Hong Kong on Oct 7 and has a pre-sale estimate of $28 million to $35 million.
In terms of size, quality, polish and color, "this is the greatest white diamond we've ever had the privilege to sell," said Quek Chin Yeow, deputy chairman of Sotheby's Asia and an international diamond expert.
The stone was discovered in 2011 as a 299-carat rough diamond in a southern African country whose name Sotheby's declined to disclose.
When asked why they could not give the exact source, auction house officials said the owner wishes to remain anonymous and that was the agreement.
The current record for any white diamond is $26.7 million. That pear-shaped stone was over 101 carats. It was sold at Christie's in Geneva last spring.
Three other white diamonds over 100 carats were auctioned by Sotheby's - in 1990, 1993 and 1995.
The white stone is part of a lineup of jewels up for auction that also includes a flawless, round, vivid blue diamond, worth an estimated $19 million at 7.6 carats.
It's the largest, most significant such diamond graded by the Gemological Institute of America.
The reason these stones are going on the block in Hong Kong, Quek said, is that it has become a center for jewelry sales and it's there that the $1.7 million record price per carat for vivid blue diamonds was set - with the sale of a 6-carat blue diamond for $10.2 million in 2011.
Blue diamonds - more rare than white ones - are from the same color family as the famed Hope Diamond, though a different hue. The Hope Diamond, which belongs to the Smithsonian Institution in Washington, is not for sale.