Building of a better world for all is China's mission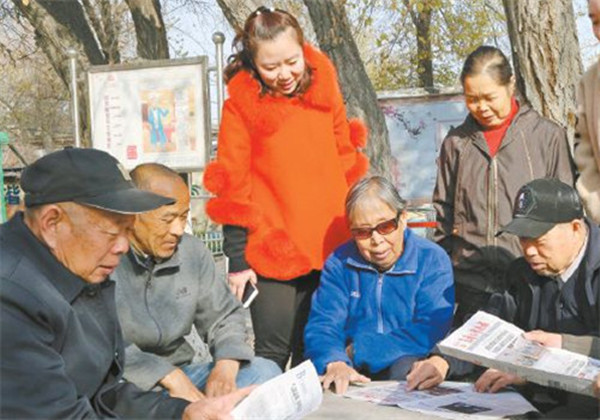 Liu Zhiwen (2nd R), a 76-year-old retired Party member at the Xiaogan Road Community in Urumqi Economic and Technological Development Zone (Toutunhe district), publicizes the spirit of the 19th CPC National Congress among his neighbors on Nov 7. [Photo/Xinjiangnet.com.cn]
Bright prospects for the commons are what General Secretary Xi Jinping of the Communist Party of China Central Committee sought to convey in his keynote speech at the world political parties dialogue on Friday, in which he accentuated his proposal that countries work together to build a community of shared future for all mankind.
Building such a community will remain an unrealistic prospect unless every country associates its own development with that of the world. Yet, despite two world wars and the Cold War, zero-sum thinking is still prevalent. As a result, the prosperity of some nations continues to be at the expense of the rest of the world.
China and its ruling party are trying to blaze a new trail and are calling on countries to build a global community with a shared future that is inclusive of different countries, cultures and peoples.
Such a community must accommodate all cultures. The principle of agreeing to disagree needs to be maintained in the exchanges between different countries and cultures. Only when all countries and cultures adopt an inclusive attitude toward other cultures will the world develop into a harmonious global community.
The prerequisite and foundation for people to pursue better lives is peace. That explains why Xi called for the concerted efforts of all countries and political parties to build a world free from war and all kinds of terrorism.
He proposes the building of a common, comprehensive, cooperative and sustainable concept of security in order to maintain a just and fair security pattern that can provide the world with the key to the peaceful settlement of conflicts and maintain world peace.
A community of shared future for all mankind must also realize common prosperity to allow the people of all countries and ethnicities to benefit from the world's economic development. The ever widening gap between the haves and have-nots that has resulted from unbalanced development needs to be changed, and economic development and social progress need to be made more inclusive and balanced.
However, the wealth people enjoy should never be achieved at the cost of environment as we have just one Earth that we cannot afford to contaminate and pollute. Without lush mountains and clean rivers people will not be able to enjoy happy lives.
Xi, as leader of the world's largest party, is calling for all political parties to join hands in building a community of shared future to benefit all mankind.