Local govts now entrusted with task of controlling house prices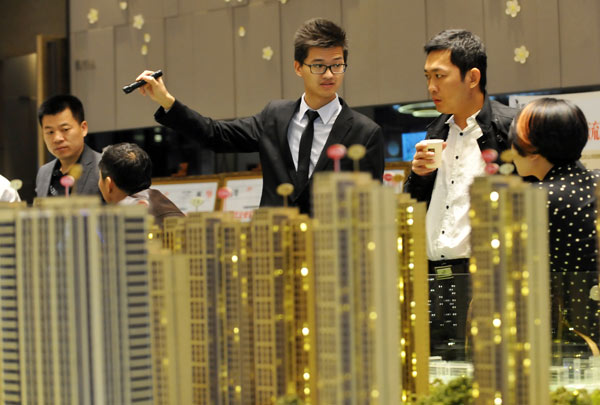 A salesman introduces a property project in Wuhan, Hubei province. [Photo by Miao Jian/For China Daily]
THE MINISTRY OF HOUSING and Urban-Rural Development, Ministry of Land and Resources and People's Bank of China jointly convened a meeting in Wuhan, capital of Hubei province, with the governments of some provincial-level regions to discuss macro-control of the real estate market. Beijing Youth Daily comments:
The two ministries and the PBOC, China's central bank, which are all directly related to the real estate market, instructed the local governments to fulfill their responsibilities and reduce potential risks related to the real estate sector, and urged the local authorities to press ahead with macro-control measures and policies.
The meeting, though not hosted by the State Council, China's Cabinet, is important because it highlights, for the first time, the local governments have a duty to control any risks arising in local real estate markets. The provincial and city governments are better placed than the central government to manage their local housing markets, because their policies and measures are more responsive, timely and to-the-point.
Local governments have played a leading role in cooling the excessively hot real estate market since last year, and their measures have proved effective so far.
The local governments have issued more than 100 policies this year to adapt to the fast-changing situations in their local markets. Moreover, they have paid special attention to ensuring their control measures do not hurt the interests of first-time buyers.
That no city has witnessed a sharp rise or fall in housing prices in this round of real estate macro-control shows the success of the local governments' policies and measures.
Also, the local governments are happy to enjoy more autonomy in the management of the local housing market, and the central authorities are expected to act more as supervisors and coordinators in the future.
The other message the meeting conveys is the central authorities will not allow the local governments to loosen their housing price control measures, even if the local governments' revenue from selling land is seriously affected.
As the central government has already opened other channels, such as government bonds, to ensure local governments make enough revenue, the meeting has served as a reminder to local governments that they cannot rely on land revenue as their major source of income. This is the crux of the matter: eliminating the various forms of support local governments give to the soaring housing prices.