People should be encouraged to donate blood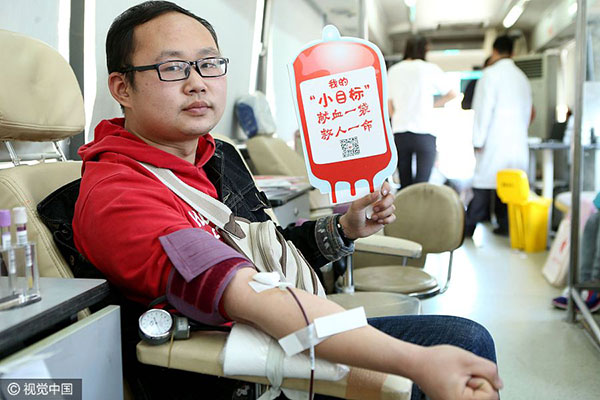 A man donates blood in Shanghai, April 3, 2017. [Photo/VCG]
JOURNALISTS FROM BEIJING NEWS found that in a hospital in Yanjiao, a town in Hebei province, there is an illegal network selling blood. Patients who need a blood transfusion have to pay agents. They then organize people to sell their blood to the patients. The newspaper comments:
The Law on Blood Donation clearly states that blood donations without compensation are the legal way of obtaining blood. It also unambiguously prohibits the selling of blood. Those organizing the selling of blood face legal penalties and even criminal charges.
Yet the illegal selling of blood has never totally disappeared. A browse at past reports shows that the authorities have launched repeated campaigns against those selling blood. Yet they still exist. Why?
The problem lies in the lack of donated blood. Most people know it is illegal for blood to be bought and sold. They also know the risks involved in blood obtained in this way. But they have no other choice. There is simply not enough blood available via official channels and there is a very long waiting list.
Data show that less than 1 percent of people in China donate blood without compensation. This is less than the 3 percent that is needed to meet the demand. As a comparison, the number is higher than 4 percent in developed countries such as the United States and Japan.
One of the main reasons for people's lack of enthusiasm for donating blood is the legal rights of blood donors are not well protected. The law says those who donate blood can get a blood transfer for free if needed. However, in practice, there are all kinds of obstacles that prevent blood donors from exercising this right. Besides, the blood collection system lacks transparency and many blood donors are not confident about the blood they donate being used properly.
Many local legislatures have been endeavoring to improve this by better protecting blood donors' rights. However, a national standard is yet to be introduced. It is necessary to take action at the national level so as to cut illegal selling of blood.