Laudable plan to meet pension obligations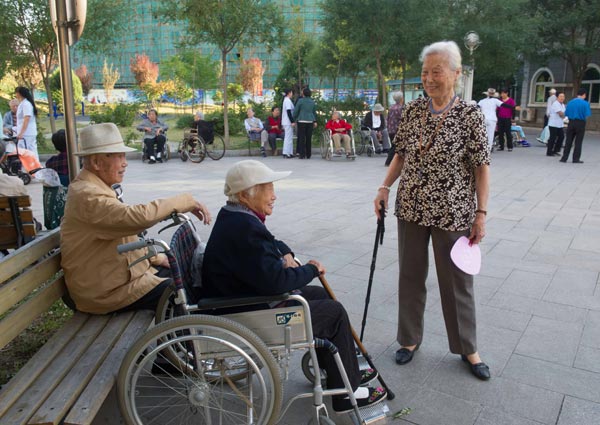 Senior citizens chat at a retirement home in Beijing. [Photo/Xinhua]
WITH ITS AGING SOCIETY putting a strain on pension payments, China will transfer some State assets, including shares of State-owned companies and financial institutions, to the country's social security fund, according to a document issued by the State Council, China's Cabinet, on Saturday. Beijing News commented on Sunday:
The plan is intended to help make up for shortfalls in the nation's pension schemes, the State Council document said.
Initially, 10 percent of equity in seven State-owned enterprise will be transferred to the National Council for Social Security Fund, with more SOEs to be included in the program next year.
The move is expected to ensure the sustainable development of China's basic pension insurance system while, equally importantly, diversifying the capital structure of SOEs to improve their management efficiency.
The country faces severe pension pressure, with the problem particularly grave in regions like the old industrial belt in the northeast of the country. The transfer program, if carried out successfully, would increase the pension fund scale without raising taxes or pension contribution rates.
Employing corporate interests risks compromising the checks and balances between SOE shareholders, while using cash may come at the cost of current SOE employees. The transfer of equity, rather than interests or dividends in cash, is a carefully balanced solution.
The transfer of equity program is not about selling off State-owned assets to meet the nation's pension obligations. It is designed to lower corporate costs and foster the healthy growth of the capital market. And with more State-run companies to be included in the program next year, the central government will have more fiscal ammunition to meet its obligations to the elderly.