19th Party Congress a vision for the future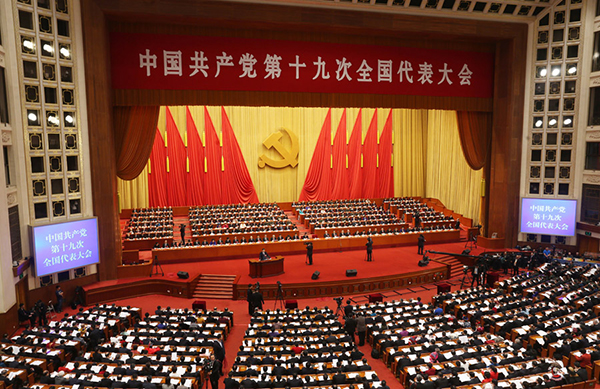 The Communist Party of China (CPC) opens the 19th CPC National Congress at the Great Hall of the People in Beijing, Oct 18, 2017. [Photo by Edmond Tang/China Daily]
Editor's Note: At the recent "International Think-Tank Symposium, the 19th CPC National Congress: Implications for China and the World", organized by the Chinese Academy of Social Sciences and China Center for International Economic Exchanges, some foreign scholars presented their views on the impact of the 19th Party Congress. Excerpts follow:
Better understanding need of the times
China is entering a new era in which it is paying more attention to narrowing the gap between the rich and the poor, and addressing the regional and rural-urban development imbalance and inadequacies, and according greater priority to the spiritual and cultural needs of the people. Thus, a new awareness and sensibility for sustainable development is emerging, and a new approach to the needs of civil society is growing rapidly.
To that end, fostering peace and prosperity, encouraging dialogue, and promoting friendship and cultural understanding across the world are of great importance for building a new basis for development in the 21st century.
Besides, China is promoting Chinese culture and studies abroad not only to support its own culture, but also to extend its own influence and boost cooperation in ambitious projects, such as the Belt and Road Initiative. Indeed, the misunderstanding, the fears, and the lack of proper communication, due to cultural differences, can harm global development, while proper understanding and respect for different values can help improve international relations and boost business investment.
Elena Avramidou, associate professor, Peking University
Initiative can help integrate South Asia, reduce poverty
The world is changing, and it will change faster after the 19th CPC National Congress. The increased pace of change, also its new direction, will be set by China's rise.
China's ambitious Belt and Road Initiative is both its internal necessity for the future growth of its economy and a wise and innovative attempt to give a new positive push to globalization under a non-Western leadership. It is a product of China's civilizational wisdom applied to the needs and possibilities of the modern world.
India, like China, is a great and ancient civilization. Our two civilizations have interacted fruitfully in the past. Now the time has come for Indian and Chinese civilizations to embark on a new era of interaction and cooperation for mutual good and for the good of the world. And the Belt and Road Initiative provides a rare opportunity for such India-China cooperation.
The biggest opportunity for China and India is to cooperate in implementing a grand South Asian Economic Corridor under the Belt and Road framework. South Asia's combined population is more than 1.7 billion, the highest for a region of that size. South Asia is also home to the largest number of poor people in the world. Yet it is also the least integrated region in the world. China's initiative could help to not only integrate this region but also to alleviate poverty there.
Sudheendra Kulkarni, Observer Research Foundation, Mumbai