Systemic change to boost anti-graft fight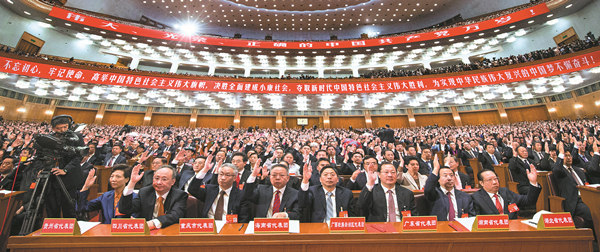 Delegates to the 19th CPC National Congressvote to amend the Party Constitution in the Great Hall of the People in Beijing on Oct 24 before the congress adjourned. XU JINGXING / CHINA DAILY
Editor's Note: The 19th National Congress of the Communist Party of China approved some amendments to the Party Constitution, including the Party disciplinary inspection system. Du Zhizhou, deputy director of the Clean Governance Research Center at Beihang University, explains to China Daily's Zhang Zhouxiang the importance of those amendments for society. Excerpts follow:
Q: The Party Constitution says the Party's leading committees, especially the departments and offices under the CPC Central Committee and the State Council, China's Cabinet, shall carry out inspections in response to the needs of their daily work, while city and county Party committees shall establish a discipline inspection system. What is the difference?
A: Higher-level Party committees are inspected by temporary teams whose members come from different organizations while lower-level ones are inspected by permanent teams from professional departments. That's because higher-level Party committees have more power, so the teams inspecting them should be composed of members from different backgrounds in order to avoid any possible link. In lower-level Party committees, permanent inspection teams are more effective in curbing corruption.
Q: So how do the two complement each other?
A: At times, when an inspection team sent by the higher authorities investigates one organization, suspected corrupt officials might sense the oncoming danger and take measures to cover their tracks.
To prevent such a possibility, a permanent inspection system enables discipline inspectors to swing into action much before inspection teams from higher-level disciplinary committees actually start their work. For example, in July 2015, the inspection team sent to Chizhou city in Anhui province received some clues that Zhang Quanfa, a local official, could be involved in corruption. In order to avoid alerting him in advance, the local inspectors first began investigations and shared materials with the higher-level inspection team. Thus the higher-level inspection team could gather enough evidence against Zhang to give him the punishment he deserved.
Q: In the past, the Party Constitution required all levels of discipline inspection commissions, discipline inspection teams and discipline inspectors to obtain accreditation from the Party or State organ at the corresponding level. That has now changed to only discipline inspection teams. Why?
A: In 1992, the amendment to the Party Constitution made it clear that the Central Commission for Discipline Inspection could send inspection teams or inspectors to central Party or State organs, if and when necessary.
At the 18th Party Congress in 2012, the Party Constitution was further amended, extending the power to accredit discipline inspection teams or inspectors to all levels of Party discipline inspection committees. That practice proved quite effective in the anti-corruption campaign launched after the 18th Party Congress.
But discipline inspection is a rather complex job. In order to find clues to possible corruption, an inspector has to go through a huge pile of documents, interview the staff of the organization facing inspection, and often conduct investigations beyond the suspected organization. And almost always teams comprising professionals have done the job better than single discipline inspectors. That's why the 19th Party Congress replaced discipline inspectors with inspection teams.
Q: Analysts say inspection team members could supervise each other to better prevent corruption. What is your view?
A: That's reasonable. The CCDI has taken measures to prevent corruption among the discipline inspection officers, because they, too, have power in their hands, and teamwork has proved quite effective in realizing that. Earlier this year, Cao Lixin, former senior discipline inspector sent by the CCDI to Shanxi province, was found guilty of taking bribes from and colluding with the corrupt officials he was supposed to supervise. In January, the CCDI co-produced a documentary with China Central Television, which highlighted the necessity of preventing corruption within discipline inspection offices.
Q: The amendment says that if a discipline committee finds clues suggesting that a leading figure of a Party committee is involved in corruption, it can report to a higher-level discipline committee without informing the Party committee about it. Will that help better fight corruption?
A: Yes. Leading figures of local Party committees should be put under supervision because they wield power. Yet in the past the discipline committees had to report to the Party committee at the same level after finding any clues against an official suspected of corruption. And when a leading figure, even the secretary of a local Party committee, was involved in corruption, he/she could prevent the information from reaching higher discipline committees.
Thanks to the amendment, local discipline inspection committees can better and more independently supervise leading Party officials at the same level.