Why was there no stop on faulty rail tunnel work?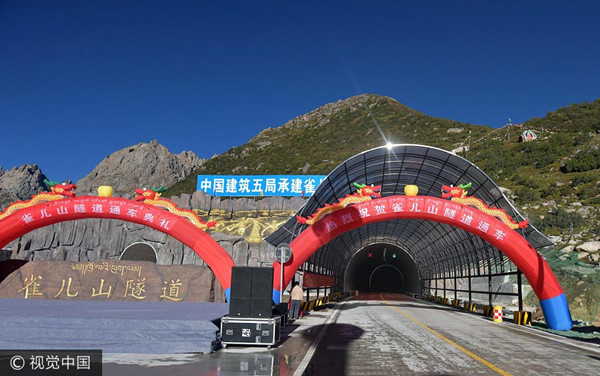 The Que'ershan Tunnel, stretching 12.997 kilometers on National Highway No 317, in Ganzi, Sichuan province, opens to traffic on Sept 26, 2017. It is said to be the world's highest tunnel on a highway. The tunnel, whose highest point is 4,378 meters above sea level, was completed 15 years after the launch of the project. With the opening of the tunnel, it takes only 10 minutes to pass through the perilous and steep Que'ershan Mountain that stands 6,168 meters above the sea level. The project is projected to become a new impetus to help drive the economic and social development of the remote Tibetan region. [Photo/VCG]
CHINA RAILWAY CORP has found that some of the tunnels along the Shanghai-Kunming high-speed railway have some serious quality problems, which may pose safety risks. China Central Television comments:
The sound construction of any high-speed railway is of the utmost importance because any flaw might cause an accident. That is especially true of the high-speed railway linking Shanghai and Kunming which passes through Southwest China's Guizhou and Yunnan provinces where the geological conditions are complex and require safety standards that are higher than normal.
In order to prevent quality problems, there is a supervision mechanism throughout the whole process of constructing a high-speed railway, from design to construction to acceptance of the final product. Yet those companies that used substandard materials and compromised safety by not doing their work to the required standards were not caught in their misdeeds by the supervisors.
An investigation has been conducted and the companies involved in the design and construction of the tunnels, as well as those responsible for supervising the work have all received punishments.
However, that's far from enough. How did the companies involved get the work in the first place? Did any officials receive bribes? Why did the supervisors fail to do their duty? All these questions must be answered, and if any corruption is uncovered, the officials involved must receive their deserved legal penalties.
High-speed railways are a glorious name card of China's manufacturing industry, and Chinese companies have been signing enormous contracts in overseas infrastructure construction. Those that have tainted the image of China's high-speed railways and disgraced China's manufacturing industry should pay a heavy price for their misdeeds.