Rules for return of hire-on-demand deposits required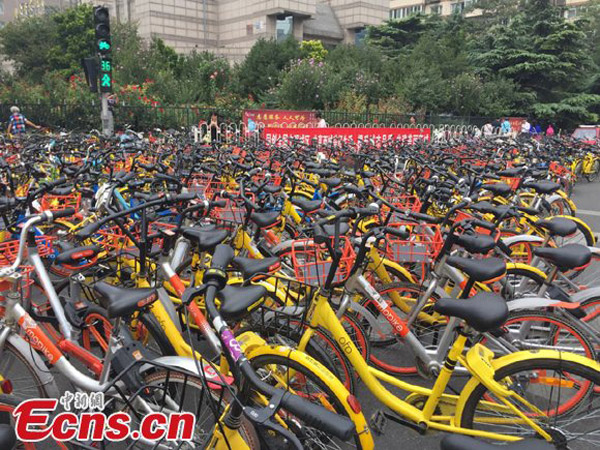 Shared bikes clutter a street in Xicheng district, Beijing, Sept 15, 2017. [Photo/Ecns.cn]
SOME COMPANIES providing hire-on-demand bicycles are in so much trouble that they fail to respond to the requests users make via the companies' apps for the return of their deposits. This has resulted in users paying others to visit the offices of bike-sharing companies to get their deposits back. Yanzhao Evening News commented on Tuesday:
What the deposit collectors do for a living is nothing complicated. They are in fact paid to show up at the offices of bike-sharing companies and demand the return of the deposits paid by their clients. For this they need copies of their clients' identification cards and mobile phone numbers as these are used to register with the companies.
Such something-better-than-nothing thinking behind the hiring of deposit collectors means these hired helpers solicit nearly half the deposit they collect as commission.
Also censurable are the bike-hire operators who try to play hide-and-seek. Mired in financial crisis, some of them even harbor the wishful thinking that blocking users' access to refunds via their apps might "cut loose" the less determined. It is not entirely conspiracy talk that some bike-sharing companies and hired deposit collectors are in the same boat when it comes to sharing customers' deposits. Either way, users of bike-sharing service suffer extra cost and trouble for no good reason.
The guidelines regulating the on-demand bikes allow the service providers to demand a deposit be paid, but also encourage them to adopt a deposit-free policy. And the rules on refunds are not explicit, exposing users to the risk of losing their deposits and giving rise to the deposit collectors.
More targeted rules at the national level, like Beijing's special deposit account system, are therefore needed to ensure rental bike operators return deposits when asked to do so.