TV company wrong to broadcast interview that may influence trial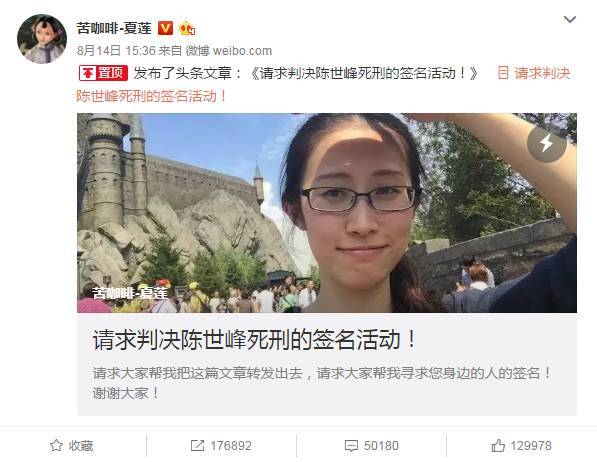 A micro blog post published by Jiang Qiulian calls for death sentence given to the murder suspect who allegedly killed her daughter, Jiang Ge.
A CHINESE MOTHER whose daughter, a postgraduate student, died over a year ago in Tokyo after allegedly being attacked by a Chinese graduate student whose former girlfriend she was trying to defend, is seeking the death penalty in his trial. The verdict is due to be delivered by a Japanese court on Dec 11. Southern Metropolis Daily commented on Tuesday:
Jiang Ge, a 24-year-old Chinese student, was found dead with multiple stab wounds in the corridor of her Tokyo apartment more than a year ago, having reportedly fallen victim to a quarrel between her roommate and her roommate's ex-boyfriend. She was completing her postgraduate studies.
The roommate survived, yet refused to meet Jiang's mother face-to-face, according to reports. She even changed her phone number and her family moved home to avoid public attention, according to Jiang's grieving mother, who posted online and offline notices to trace their whereabouts.
The first encounter between Jiang's mother and the woman whose former partner has been accused of murdering Jiang occurred recently when a veteran television producer managed to entice both of them in front of cameras.
However, the relatives of victims are not supposed to meet with key witnesses prior to a court handing down its verdict. Whether the televised meeting will evoke a public outcry against one of the parties in the case, particularly the suspect, remains unclear. But the risk of it influencing the court's decision cannot be ruled out, not least when many have already drawn their own conclusion despite the lack of clearcut evidence in the case. That people are already pointing fingers before the court's verdict is therefore uncalled for.